Bethany Hamilton: Unstoppable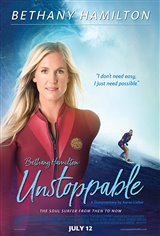 | 12 votes and 2 Reviews
Write a Review
Release Date:
July 26, 2019 - Toronto
August 2, 2019 - Vancouver
1h 40m | Documentary
---
At the age of 13, rising star surfer Bethany Hamilton was dangling her arm off the side of her surfboard when a tiger shark bit it. She lost her arm in the incident, but that didn't stop her from pursuing her dream of becoming a professional surfer.
Having grown up in a surfing family, Bethany has a deep love for the ocean, so it wasn't just the competition that fueled her desire to stay in the big blue. Not only has she conquered the giant walls that faced her, but she has also gone on to become a wife and the mother of two sons.
Bethany's story was dramatized in the hit movie Soul Surfer — now watch her story unfold through her own words in this documentary as we meet the champion with the positive attitude, who against all odds, became one of the leading professional surfers of our time.
---