Boston: The Documentary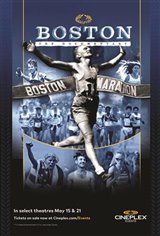 2 votes and 0 Reviews
In theatres:

May 15, 2017 - Encore presentation: May 21, 2017
May 17, 2017

Running time:
1h 54m
Genre:
Documentary
---
Narrated by Matt Damon, this documentary is about the world's most legendary running race – the Boston Marathon. The film chronicles the story of the iconic race from its debut in 1896 when only 15 runners participated, to the present day as one of six World Marathon Majors.
In addition to highlighting the event as the oldest annually contested marathon in the world, the film showcases many of the most important moments in more than a century of the race's history, including when it began welcoming foreign athletes and eventually women. Included is exclusive access to the Boston Athletic Association's extensive archive of video, photos and memorabilia.
Following the tragic 2013 bombing, this film showcases the preparations for and eventual running of the 118th Boston Marathon one year later, when runners and community gather together once again.
Presented in select Cineplex theatres at 7pm on both Monday, May 15 and Wednesday, May 17 only.
---