Byzantium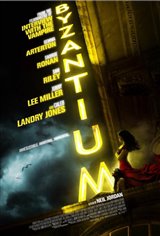 2 votes and 0 Reviews
Release Date:
DVD: October 29, 2013
1h 58m | Drama, Sci-Fi/Fantasy, Thriller
---
Clara and Eleanor Webb (Gemma Arterton, Saoirse Ronan) seek refuge in a coastal resort. Here, they meet the lonely Noel, who lets the women stay in his deserted guesthouse Byzantium. Little does he know that his new residents have a dark secret—they're actually vampires born 200 years ago. It isn't long before the truth about their past begins spreading, resulting in deadly consequences for the unsuspecting seaside community.
---