Charlie Says (2007)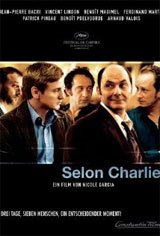 ---
Returning to his birthplace to take part in a conference, Matthieu, a famous paleontologist, meets up with Pierre, a former collaborator who has become a teacher.

Pierre has no idea that his wife Nora is having an affair with Serge, the father of one of his students, Charlie. The town's mayor also has a secret affair going on with a young municipal employee, instead of concentrating on getting re-elected.

Meanwhile, a dim-witted robber takes part in a break-in that's about to go desperately wrong, while a young tennis champion has a hard time coping with the demands of his sport.

Throughout all of this, 12-year-old Charlie, neglected by Serge, has to lie to his mother to cover for his father, while witnessing the confusion and mean-spiritedness of the adults who surround him.


| | |
| --- | --- |
| Director: | Nicole Garcia |
| Studio: | Métropole Films Distribution |
| Producer(s): | Alain Attal |
| Cast: | Jean-Pierre Bacri, Vincent Lindon, Benoît Poelvoorde, Benoît Magimel, Patrick Pineau, Ferdinand Martin, Arnaud Valois, Minna Haapkylä, Sophie Cattani |
| Writer(s): | Frédéric Bélier-Garcia, Jacques Fieschi, Nicole Garcia |
---