Chicago 10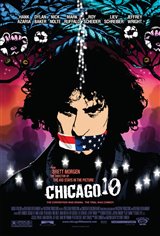 0 votes and 0 Reviews
In theatres:
November 28, 2020 - Limited
Digital/VOD: December 23, 2020
1h 50m | Animation, Documentary
---
A documentary about the 1968 anti-war protests in Chicago by Abbie Hoffman and his cohorts, which led to confrontations between police and protesters at the 1968 Democratic National Convention.
Hoffman and the other organizers of the protest became known as the Chicago Seven, then briefly as the Chicago Eight when Black Panther leader Bobby Seale was included on the list of accused, before it was decided his trial would take place separately. The trial of the Seven (the 10 in the movie's title includes the defense attorneys, who were charged with contempt of court) became famous due to the antics of the defendants, who turned Judge Julius Hoffman's courtroom and the trial into a farce.