Dylan Dog: Dead of Night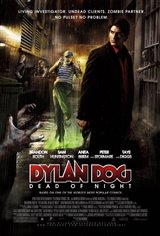 2 votes and 0 Reviews
Release Date:
DVD: November 1, 2011
Comedy, Horror, Thriller
---
Dylan Dog (Brandon Routh) is the world's only private investigator of the undead with a business card that features his slogan, "No pulse? No problem."
Having left the world of the supernatural behind after the death of his wife, Dylan is pulled back into action to solve the murder of a mysterious woman's father. Along with his zombie assistant Marcus, he finds himself drawn into the middle of a battle between the clans of vampire, werewolf and zombie for possession of a rare artifact to control both the mortal and monster world. Dylan must go where the living dare not in order to solve the case, save mankind and keep his partner from losing any more body parts.
---