Happily Ever After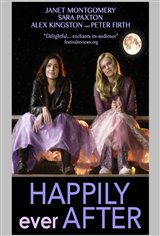 4 votes and 0 Reviews
In theatres:

March 18, 2016 - March 18, 2016 - Toronto, Calgary, Edmonton
March 18, 2016 - March 18, 2016 - Toronto, Calgary, Edmonton
March 18, 2016 - March 18, 2016 - Toronto, Calgary, Edmonton

Running time:
1h 52m
Genre:
Drama
---
When her father comes down with an illness, Heather (Janet Montgomery) returns to the small town she always hated. Everyone's surprised to see her, most of all her former high school best friend Sarah Ann (Sara Paxton).
Sarah Ann begs Heather, an edgy documentary filmmaker, to film her wedding. Heather reluctantly agrees and undertakes the video as if it's a documentary.
Heather wonders what she and blonde, carefree Sarah Ann ever had in common, aside from the married high school teacher (Tom Cullen) they both had a crush on.
---