Jump, Darling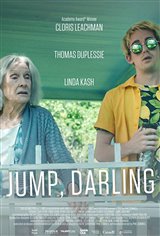 2 votes and 0 Reviews
| | |
| --- | --- |
| Digital/VOD: | March 9, 2021 |
| Running time: | 1h 30m |
---
Russell (Thomas Duplessie) is a rookie drag queen who goes by the name of Fishy Falters, and is trying to get his career going. After a breakup with his partner who does not support him as a drag queen, Russell moves out and goes to live with his grandmother, Margaret (Cloris Leachman) in Prince Edward County in Ontario, Canada to pursue his dream.
When he arrives, she welcomes him with open arms, and tells him that he can stay with her for as long as he wants. Russell notices that her health is declining, but she tells him she doesn't want to be placed in a nursing home. Russell decides he'll be the one to take care of her, and at the same time, pursue his dream of becoming a drag queen by working as one at a local bar.
Canadian Connection : Filmed in Toronto and Prince Edward County. Many cast members, including Thomas Duplessie, are Canadian.
| | |
| --- | --- |
| Director: | Phil Connell |
| Studio: | levelFILM |
| Producer(s): | Katie Corbridge, Phil Connell |
| Cast: | Cloris Leachman, Thomas Duplessie, Linda Kash, Jayne Eastwood, Tynomi Banks, Fay Slift, Miss Fiercelicious, Daniel Jun, Andrew Bushell, Katie Messina, Dylan Roberts |
| Writer(s): | Philip J. Connell |
---