Lie Exposed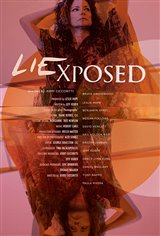 0 votes and 0 Reviews
Release Date:
March 6, 2020 - Toronto,Vancouver
Digital/VOD: June 9, 2020
1h 32m | Drama
---
Recovering alcoholic Melanie (Leslie Hope) has been sober for many years and is in a happy marriage with her husband Frank (Bruce Greenwood) in Toronto. When she receives a terminal diagnosis from her doctor, she leaves Frank and heads to Los Angeles for a bender.
While there, she meets a tintype photographer (Jeff Kober) and agrees to pose for him at his downtown studio. The two have an affair, but she eventually goes back to Toronto, and tells Frank she wants to be with him in spite of her affair. Now sober, Melanie, along with Frank, stage a surprise art show for their friends of the photos Melanie posed for in Los Angeles. The exhibition of the tintypes ignites passionate and disparate discussions amongst the group, none of whom realize Melanie is the subject of this intimate and provocative work.
Canadian Connection : Partially filmed in Canada with a mostly Canadian cast and crew.
---