Made in Italy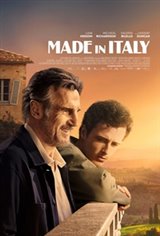 6 votes and 0 Reviews
Release Date:
DVD/Blu-ray: December 1, 2020
Digital/VOD: August 7, 2020
2h 0m | Comedy
---
Jack (Micheál Richardson), a gallery owner from London, is going through a divorce and needs some extra money to get back on his feet. He heads to Italy with his estranged father Robert (Liam Neeson) to visit the family vacation home. Neither have visited the place since the death of Jack's mother nearly 20 years earlier.
Unfortunately, no one has lived in the house for years and it's an absolute mess. Doors are broken, dirt is everywhere, and there's even a weasel living in the bathroom. The two must clean and fix it up in order to sell. While they restore the home back to its original glory, Jack and Robert find themselves ultimately fixing their own fractured relationship.
---