Marlene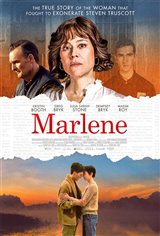 0 votes and 0 Reviews
| | |
| --- | --- |
| In theatres: | |
| Running time: | 1h 50m |
---
Marlene (Kristin Booth) fights to exonerate her husband, Steven Truscott (Greg Bryk), who was wrongly convicted and sentenced to death at age 14 for the rape and murder of a classmate. His death sentence was commuted a year after he was found guilty, and he spent 10 years in prison before being released on parole.
Marlene, who has been following Steven's case since before they met, has many questions, such as why the police never looked at any other suspects besides Steven. The circumstantial evidence that was presented at his trial is questioned, and new evidence in favor of his innocence is found. Marlene won't rest until his name is cleared.
Based on a true story that happened in Clinton, Ontario.
Canadian Connection : A Canadian production filmed in Calgary, Alberta with a mostly Canadian cast and crew.
---