Monster Hunter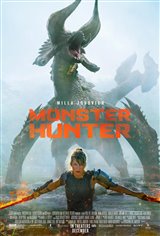 | 22 votes and 8 Reviews
Write a Review
Rotten Tomatoes® Score


45%

70%
| | |
| --- | --- |
| In theatres: | |
| Digital/VOD: | February 16, 2021 |
| DVD/Blu-ray: | March 2, 2021 |
| Running time: | 1h 43m |
---
Captain Natalie Artemis (Milla Jovovich) is sent on a U.N. mission with a group of U.S. Army Rangers to track the disappearance of Bravo Team, who went missing in the middle of a desert. Suddenly, a dark sandstorm with thunder and blue lightening appears on the horizon, closing in on them quickly, overtaking the unit and transporting them to another desert on another planet, where they see a tower in the distance. As Artemis and her unit drive, trying to get their bearings, they come across a giant skeleton.
They're soon met by the monster that killed the giant creature and have to run for their lives. Along the way, they meet Hunter (Tony Jaa) and join forces to cross the desert to the sky tower and they engage in a desperate battle for survival against enormous enemies with incredible powers.
Based on the Monster Hunter series of fantasy-themed action role-playing video games by Capcom.
| | |
| --- | --- |
| Director: | Brendan Petrizzo, Paul W.S. Anderson |
| Studio: | Columbia Pictures |
| Producer(s): | David Latt, Dennis Berardi, Jeremy Bolt, Martin Moszkowicz, Paul W.S. Anderson, Robert Kulzer |
| Cast: | Milla Jovovich, Tony Jaa, Tip "T.I." Harris, Meagan Good, Diego Boneta, Josh Helman, Jin Au-Yeung, Ron Perlman, Jannik Schümann, Aaron Beelner, Hirona Yamazaki, Connie Sechrist, Anthony Jensen, Yaz Canli, Eric Delgado, Jarrid Masse, Jonathan Nation, Jumarcus Mason, Mark Valeriano, Yan Ni, Bao Jianfeng |
| Writer(s): | Paul W.S. Anderson |
| Official Site: | monsterhunter.movie |
---