October Gale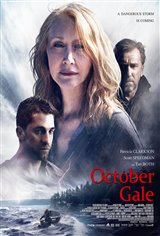 | 10 votes and 2 Reviews
Write a Review
In theatres:

March 27, 2015 - March 27, 2015 - Toronto, Vancouver, Montreal, Victoria, Calgary
March 27, 2015 - March 27, 2015 - Toronto, Vancouver, Montreal, Victoria, Calgary
March 27, 2015 - March 27, 2015 - Toronto, Vancouver, Montreal, Victoria, Calgary
March 27, 2015 - March 27, 2015 - Toronto, Vancouver, Montreal, Victoria, Calgary
March 27, 2015 - March 27, 2015 - Toronto, Vancouver, Montreal, Victoria, Calgary

On DVD:
July 7, 2015
Running time:
1h 31m
Genre:
Drama, Romance, Thriller
---
When a recently widowed doctor (Patricia Clarkson) returns home to her remote island cottage, she finds a stranger (Scott Speedman) who has been shot. He tells her there are two men (Tim Roth, Callum Keith Rennie) who are intent on killing him.
A storm is brewing and it cuts the pair off from the mainland, so they join forces to get through the night and keep the killers at bay.
Canadian Connection: Filmed in the Toronto area. Actors Scott Speedman and Callum Keith Rennie are Canadian, as is director/writer Ruba Nadda.
---