Onward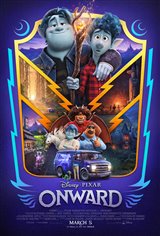 | 92 votes and 32 Reviews
Write a Review
Rotten Tomatoes® Score


88%

95%
Release Date:
DVD/Blu-ray: May 19, 2020
Digital/VOD: March 22, 2020 - iTunes
Disney+: April 3, 2020
1h 42m | Action, Adventure, Animation
---
Teenage elf Ian Lightfoot (Tom Holland) feels awkward at school, where he basically has no friends. His mother wants him to invite some classmates to his birthday party, but he's just too shy. In contrast, his older brother Barley Lightfoot (Chris Pratt) is outgoing and loves the fantasy and magic that used to exist in their world, before technology took over.
More than anything, Ian wishes he could spend time with his father, who died when he was small. Barley has some memories of him, but it's just not enough. When a spell brings their father back, it misfires as he's appearing before their eyes, and they wind up with half a dad—from the waist down. The spell allows their father to visit the brothers for only 24 hours, so Ian and Barley quickly set out on a frantic and dangerous quest to finish the magic spell in order to get all of their father back.
---