Patton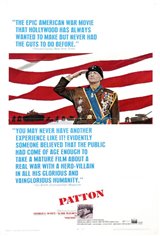 | 2 votes and 1 Reviews
Write a Review
Release Date:
DVD: November 6, 2001
2h 52m | Drama, War
---
<>In 1943 North Africa, George Patton (
George C. Scott
) assumes command of (and instills some much-needed discipline in) the American forces. Engaged in battle against Germany's Field Marshal Rommel (Karl Michael Vogler), Patton drives back The Desert Fox using the German's own tactics. Promoted to Lieutenant General, Patton is sent to Sicily, where he engages in a personal war of egos with British Field Marshal Montgomery (
Michael Bates
).
While touring an Army hospital, the General comes across a GI (Tim Considine) suffering from nervous fatigue. Considering the young man to be nothing but a slacker, Patton smacks him and orders him to get well in a hurry. This incident results in Patton losing his command and by extension, missing out on D-Day. Unabashedly flamboyant, Patton remains a valuable resource, but ultimately proves too much of a loose cannon in comparison to the more level-headed tactics of his old friend Omar Bradley (Karl Malden).
| | |
| --- | --- |
| Director: | Franklin J. Schaffner |
| Studio: | 20th Century Fox |
| Producer(s): | Frank McCarthy |
| Cast: | George C. Scott, Karl Malden, Stephen Young, Michael Strong, Tim Considine, Frank Latimore |
| Writer(s): | Francis Ford Coppola, Edmund H. North |