Pinocchio (2002)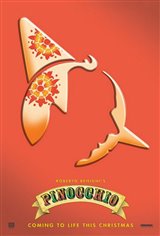 | 2256 votes and 16 Reviews
Write a Review
| | |
| --- | --- |
| In theatres: | |
| Running time: | 1h 48m |
---
When a magical log falls off a truck and winds up in front of the workshop of a woodworker named Geppetto (Carlo Giuffrè), he decides to use it to carve out a life-sized puppet .
When the puppet comes to life, Geppetto names him Pinocchio (Roberto Benigni). Geppetto tries to send Pinocchio to school, but the mischievous puppet doesn't want to go and instead runs off to have adventures. Pinocchio discovers that when he tells a lie, his nose grows. The Blue Fairy (Nicoletta Braschi) admonishes him and when Pinocchio promises to be good, she restores his nose to its original size.
However, that's only the start of Pinocchio's misadventures.
---