Prodigals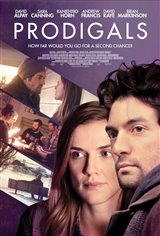 30 votes and 0 Reviews
In theatres:

June 8, 2018
June 13, 2018
June 15, 2018
June 18, 2018
June 25, 2018
July 20, 2018

Running time:
1h 49m
Genre:
Drama
---
A young man named Wesley (
David Alpay
) has returned to his hometown of Sault Ste. Marie, Ontario after a five-year absence, to testify at a friend's murder trial. While he's home, the suspect's sister and Wesley's friend Nina (
Kaniehtiio Horn
) asks him to defend her brother in court, believing his background as a big-time lawyer will help them win the case.
His friends all put a great deal of pressure on him to find the man innocent, but Wesley is harboring a dark secret – he dropped out of law school and didn't actually become the bigshot lawyer they all believe him to be. However, when the defendant's lawyer mistakes Wesley for a qualified lawyer, he's hired on to help win the case and accepts, believing he can help without actually doing anything illegal.
As his involvement in the seemingly impossible-to-win trial deepens, Wesley reunites with his ex-girlfriend Jen (Sara Canning), who insists she no longer loves him and has moved on. Wesley attempts to win her back, all the while trying desperately to keep up this dangerous façade he's made for himself as a successful lawyer so he can help free his friend.
Based on the play by Sean Minogue.
Canadian Connection : Filmed in Sault Ste. Marie, Ontario with a Canadian cast and crew.
| | |
| --- | --- |
| Director: | Michelle Ouellet |
| Studio: | levelFILM |
| Producer(s): | David Kaye, Jameson Parker, Michelle Ouellet, Nicholas Carella |
| Cast: | David Alpay, Sara Canning, Kaniehtiio Horn, Andrew Francis, David Kaye, Nicholas Carella, Jameson Parker, Brian Markinson |
| Writer(s): | Sean Minogue, Nicholas Carella |
---