Ravers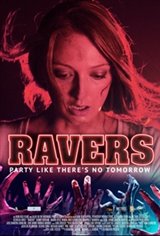 ---
Murder on the dance floor in a witty, bloody horror about madness, mayhem and mutants.
When a manufacturing accident drastically increases the potency of the beverage Regenerize, a worker drinks a bottle and goes berserk, butchering his colleagues. A month later, Becky, a germaphobic, trainee journalist, reluctantly goes to an illegal rave inside the now abandoned factory where the organiser discovers a stash of the contaminated drink, which gets into the hands of every raver there.
Trapped in the mutating crowd as the party descends into carnage, Becky must overcome her fears to make it out of the party alive.