Reasonable Doubt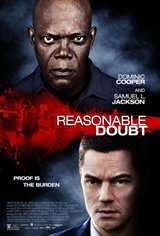 ---
When up-and-coming District Attorney Mitch Brockden (Dominic Cooper) commits a fatal hit-and-run, he feels guilty and responsible when another man, Clinton Davis (Samuel L. Jackson), is accused of the crime, despite the fact that the man is a career criminal.
Following the trial, Mitch realizes the man ran in front of his car because he was trying to flee Clinton, who was torturing him to death in an alley. He realizes that his actions freed a guilty man and he tries to right the wrong without putting his own family in danger.
Canadian Connection: Filmed in Winnipeg. Several cast members are Canadian, including Erin Karpluk who stars as Dominic Cooper's wife.
---