RiffTrax Live: Krull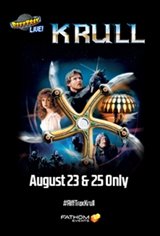 ---
For the first time in this or any other galaxy, Fathom Events and RiffTrax.com® bring sci-fi fantasy classic Krull LIVE to theatres on August 23 with a special rebroadcast on August 25. Travel to the magical planet of Krull, where people travel freely through time and space, yet everything is still lit with torches.
Here Princess Lyssa and Prince Corwyn plan to marry and rule the land. But wait! The kingdom is invaded by a beast who kidnaps Princess Lyssa, and it's up to Corwyn to rescue her. Naturally, he assembles a rag-tag band of misfits to help him. A wizard! A cyclops! Another wizard! A Robbie Coltrane and a Liam Neeson!
Will Corwyn save his Princess from the clutches of dark magic?