Rocky III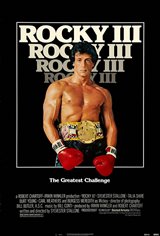 5 votes and 0 Reviews
Release Date:
DVD: March 18, 2003
1h 39m | Action/Adventure, Drama
---
Rocky Balboa (Sylvester Stallone) has become so famous that his likeness is everywhere, including pinball machines. Fame and complacency soon cause Rocky to lose his title to young thug Clubber Lang (Mr. T), who inadvertently causes the death of Rocky's beloved trainer, Mickey (Burgess Meredith), before their first championship bout.
After sinking into a depression, Rocky must regain the love and support of his family, as well as the elusive eye of the tiger, as he gets his former foe Apollo Creed (Carl Weathers) to train him for a rematch.
| | |
| --- | --- |
| Director: | Sylvester Stallone |
| Studio: | United Artists |
| Producer(s): | Irwin Winkler, Robert Chartoff |
| Cast: | Sylvester Stallone, Talia Shire, Burt Young, Carl Weathers, Burgess Meredith, Mr. T, Hulk Hogan |
| Writer(s): | Sylvester Stallone |
---