Sadako vs. Kayako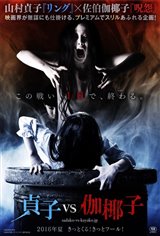 0 votes and 0 Reviews
| | |
| --- | --- |
| In theatres: | January 26, 2017 - January 26, 2017 - VOD |
| VOD: | January 26, 2017 |
| Running time: | 1h 38m |
---
In this tongue-in-cheek thriller, two of the most prolific demons from Japanese horror franchises face off against each other in an epic showdown.
When Natsumi (Aimi Satsukawa) and Yuri (Mizuki Yamamoto) come across an old, cursed VHS tape, the college girls give it a watch and learn that they only have two days left to live before the evil entity Sadako (of The Ring films) kills them. Their best option for survival presents itself in the form of Kayako (of The Grudge movies), the murderous, malicious spirit dwelling in an abandoned northern Tokyo mansion. Natsumi and Yuri pit the demons against one another and a great battle between ghostly icons ensues.
Japanese w/ English subtitles.
| | |
| --- | --- |
| Director: | Kôji Shiraishi |
| Studio: | Shudder |
| Cast: | Mizuki Yamamoto, Tina Tamashiro, Aimi Satsukawa, Misato Tanaka, Masahiro Kômoto, Masanobu Andô |
| Writer(s): | Takashi Shimizu, Kôji Suzuki |
---