Scrooged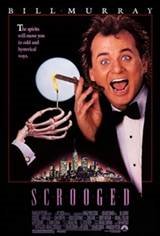 | 10 votes and 2 Reviews
Write a Review
Rotten Tomatoes® Score


71%

71%
| | |
| --- | --- |
| In theatres: | |
| Running time: | 1h 41m |
---
A darkly comic and surreal contemporization of Charles Dickens's A Christmas Carol, this effects-heavy Bill Murray holiday vehicle from 1988 sees the former SNL funnyman assuming the role of television executive Frank Cross, the meanest and most depraved man on earth.
Cross will stoop to unheard of levels to increase his network's ratings -- even if it means mounting outrageous programs to retain an audience, such as Robert Goulet's Cajun Christmas and Lee Majors in The Night the Reindeer Died, with an AK-47-toting Santa.
Cross plots his foulest move, however, for the Christmas holiday, when he will force his office staff to mount a live production of A Christmas Carol on national television -- and thus work through Christmas Eve.
Cross's life is turned upside down with visits from three ghosts: a craggy-faced cabbie known as The Ghost of Christmas Past (David Johansen); the sugar-plum fairy Ghost of Christmas Present (Carol Kane) (who gets her jollies by bonking Frank across the face with a toaster oven); and, eventually, the caped, headless Ghost of Christmas Future, who will send Frank sliding into a crematory oven -- just before he gives the sleazoid one last chance to redeem himself.
Along the way, the spirits carry Frank to scenes from his past, present, and future (per Scrooge) and impart a glimpse of how he became so thoroughly rotten.
The radiant Karen Allen co-stars as Frank's girlfriend, Claire Phillips, and the film packs in cameos from countless celebrities -- among them, Mary Lou Retton, John Houseman, Jamie Farr, and, in a truly grisly and tasteless bit, John Forsythe. Richard Donner directs, from a script credited to the late Michael O'Donoghue and Mitch Glazer.
---