Summerland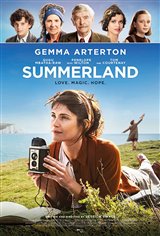 0 votes and 0 Reviews
Rotten Tomatoes® Score


77%

73%
Release Date:
DVD/Blu-ray: November 17, 2020
Digital/VOD: August 21, 2020
1h 39m | Drama
---
Alice (Gemma Arterton) is a reclusive writer, resigned to a solitary life on the seaside cliffs of Southern England while World War II rages across the channel. She's writing an academic thesis when one day, she opens her front door to find out she's been chosen to adopt a young evacuee from London, named Frank (Toby Osmond), whose father is a pilot in the war.
She refuses at first, but soon finds she doesn't have a say. The boy struggles with her initial coldness, but as Alice gets to know the shy boy, she discovers they have things in common in their pasts. She tells him about Summerland, a mythical place where souls go after they die. When the woman who placed Frank at Alice's home shows up with bad news, Alice realizes she's the only one who can help the young boy.
---