The Most Beautiful Flower (Netflix)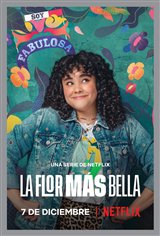 ---
Mich (Esmeralda Soto), a fabulous and undeniably true-to-herself teenager is trying to make it through high school and its social expectations, family traditions, and love octagons (the next level of love triangles) as she continues her mission to become popular and seen for the amazing person she is.
And how does she do it? With confidence, passion and lots of self-love, even if she doesn't really know what she's doing!
Inspired by the teenage years of comedian Michelle Rodríguez, who – behind the scenes – is the co-creator of the series with screenwriter Fernanda Eguiarte.