The NeverEnding Story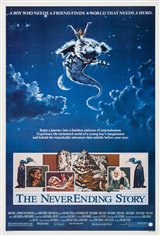 | 2 votes and 1 Reviews
Write a Review
Rotten Tomatoes® Score


80%

81%
| | |
| --- | --- |
| In theatres: | |
| Netflix: | |
| Running time: | 1h 42m |
---
Bastian (Barret Oliver), 10, lives with his widowed father (Gerald McRaney) in De Forest, Washington. He's shy, loves reading and doesn't have many friends. One day while hiding from bullies in a bookstore, he finds a book called The Neverending Story and borrows it.
He's fascinated by what he finds inside — the story of a magical land known as Fantasia that's slowly being devoured by a malevolent force called "The Nothing," a shapeless, ominous force created by human despair.
When the ruler of the land, the Childlike Empress, becomes ill, it falls to a young warrior boy named Atreyu (Noah Hathaway) to discover the cure. He sets out on his beloved horse, Artax, but the Nothing summonds a vicious creature named Gmork to kill him. Along the way, Atreyu meets a luckdragon named Falkor, who helps him on his mission.
Based on the novel Die Unendliche Geschichte by Michael Ende.
| | |
| --- | --- |
| Director: | Wolfgang Petersen |
| Studio: | Warner Bros. |
| Producer(s): | Bernd Eichinger, Bernd Schaefers, Dieter Geissler |
| Cast: | Noah Hathaway, Barret Oliver, Tami Stronach, Gerald McRaney |
| Writer(s): | Wolfgang Petersen, Herman Weigel |
---