The Preacher's Wife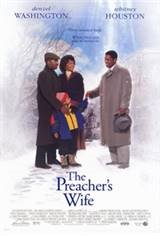 0 votes and 0 Reviews
Rotten Tomatoes® Score


62%

35%
| | |
| --- | --- |
| Running time: | 2h 4m |
---
An angel wonders if love can be Heaven on Earth in this family-themed romantic fantasy. Rev. Henry Biggs (Courtney B. Vance) is the pastor of a struggling Baptist church in a poor section of New York City.
Biggs is devoted to serving his flock and his community, but things are not easy; membership is down, money is tight, the furnace is broken, and real estate mogul Joe Hamilton (Gregory Hines) wants to buy the property and put up condominiums.
The strain is taking its toll on Biggs' marriage to his childhood sweetheart Julia (Whitney Houston), and in a moment of desperation, he prays to the Lord for help. The prayer is answered in the form of Dudley (Denzel Washington), an angel sent to earth to assist Biggs.
The preacher doesn't believe that Dudley is a divine being, but he'll take any help he can get, while Julia, who thinks that Dudley is just another community volunteer, welcomes him into their home. However, Dudley is sidetracked in his earthly mission when he finds himself falling in love with Julia.
Leading lady Whitney Houston takes the opportunity to sing several gospel numbers along the way.