The Program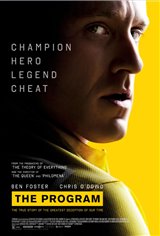 | 6 votes and 2 Reviews
Write a Review
Release Date:
March 18, 2016 - Calgary,Montréal,Ottawa,Toronto,Vancouver
DVD: May 17, 2016
1h 43m | Drama
---
Irish sports reporter David Walsh (Chris O'Dowd) covers the world of competitive bicycle racing. He sees promise in an American racer, Lance Armstrong (Ben Foster), even though he doesn't place high among the world's best. Lance is diagnosed with testicular cancer and has to drop out of racing to beat his illness. When he does, he goes to an Italian doctor who supports using steroids and EPO — the hormone Erythropoietin — to improve racers' speed. Suddenly, Lance is at the top of the leader board, winning the Tour de France.
Although his colleagues assume Walsh will be pleased, since he predicted Lance had greatness in him, he's not. He finds Lance's sudden rise suspicious and vows to get to the bottom of the story. Even when Lance tests negative for drugs time after time, going on to win seven Tour De France in total, Walsh still believes Lance is using an illegal substance in order to win.
---