The Ten Commandments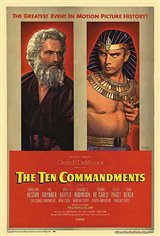 | 2 votes and 1 Reviews
Write a Review
Rotten Tomatoes® Score


89%

87%
| | |
| --- | --- |
| In theatres: | |
| On DVD: | March 30, 1999 |
| Running time: | 3h 40m |
---
Following the life story of Moses, from the time he's discovered floating in the bullrushes as a baby by the pharoah's daughter, to his long, hard struggle to free the Hebrews from their slavery at the hands of the Egyptians.
As Pharoah's adopted son, Moses (Charlton Heston) lives a good life, but when he discovers his true Hebrew heritage, he decides to try to make life better for his people. Banished by his jealous half-brother Rameses (Yul Brynner), Moses later returns to Pharoah's court, saying he's had a message from God warning the Egyptians to free the Hebrews. Rameses doesn't give in until after the Deadly Plagues have decimated Egypt.
When the Hebrews reach the Red Sea, they discover Rameses has gone back on his word and that he's planning to kill them all.
| | |
| --- | --- |
| Director: | Cecil B. DeMille |
| Studio: | Paramount Pictures |
| Producer(s): | Cecil B. DeMille |
| Cast: | Charlton Heston, Yul Brynner, Anne Baxter, Edward G. Robinson, Yvonne De Carlo, Debra Paget, Martha Scott, Eduard Franz, Olive Deering, Donald Curtis, Douglas Dumbrille, Lawrence Dobkin, Frank DeKova, H.B. Warner, Henry Wilcoxon, Julia Faye, John Miljan, Michael Ansara |
| Writer(s): | Æneas MacKenzie, Jesse Lasky Jr., Jack Gariss, Fredric M. Frank |
---