Transformers: Revenge of the Fallen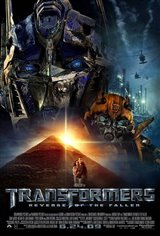 | 63846 votes and 560 Reviews
Write a Review
Rotten Tomatoes® Score


20%

57%
| | |
| --- | --- |
| In theatres: | |
| On DVD: | October 20, 2009 |
| Running time: | 2h 30m |
---
Two years have passed since Sam Witwicky (Shia LaBeouf) and the Autobots saved the human race from the invading Decepticons. Now he's preparing to leave home for college. Despite his extreme heroics, the battle of Mission City has become an urban legend believed only by conspiracy theorists. Sam is still an average teenager with everyday anxieties and excitement about separating from his parents for the first time, and vowing to be faithful to girlfriend Mikaela (Megan Fox).
Leaving home is something the Autobots understand. The Transformers' home planet of Cybertron is unhabitable and the Autobots make the best of their lives on earth, working in league with the military as part of a Top Secret team called NEST. The NEST Team seeks to hunt down whatever remaining Decepticons are still hiding on earth.
National Security Advisor Theodore Galloway, driven to prove that all Transformers should be banished from earth, endeavors to terminate NEST. Optimus Prime, the leader of the Autobots, agrees to leave if the governments of the world wish it... but he warns Galloway to consider what happens if the Autobots leave earth defenseless.
Same does his best to navigate college life, until suddenly he's besieged by visions. The Decepticons soon learn what Sam doesn't know; that he alone holds the key to the outcome of the struggle between evil and the ultimate power of good.
---