Veep: The Complete Third Season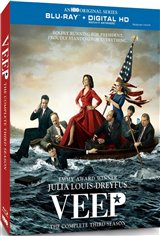 ---
Vice President Selina Meyer (Julia Louis-Dreyfus) is still hot on the campaign trail, but in a twist of events, a personal problem prompts the President of United States to not seek re-election. He resigns and by default Selina goes from Veep to President of the United States.
However, she still ranks in third place in the popularity polls and gets caught saying some unsavory things.
Staffers Dan (Reid Scott) and Amy (Anna Chlumsky) both want the position as campaign manager, Mike is getting married, Gary worries he may not be able to keep his job and Dan has a panic attack.