Voyeur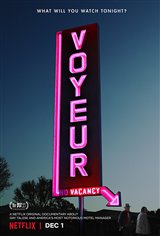 7 votes and 0 Reviews
Netflix: December 1, 2017
TV Premiere Date: December 1, 2017
1h 35m | Documentary
---
Voyeur
follows investigative journalist Gay Talese as he details one of the most controversial stories of his career: a portrait of Gerald Foos, who bought the Manor House Motel in Colorado for the express purpose of watching everything his guests did behind closed doors. He built an observation platform under the high pitched roof, where he could peering down from the ceilings without being seen or heard.
For decades, Foos secretly spied on customers through the use of specially designed ceiling vents. He kept detailed journals of his guests' most intimate moments. Talese published the report, titled "The Voyeur's Motel" for
The New Yorker
, but after it was published, it wasn't the end of the story.