Check out what's new on Netflix Canada – March 2021
By Marriska Fernandes on February 24, 2021 | 1 Comment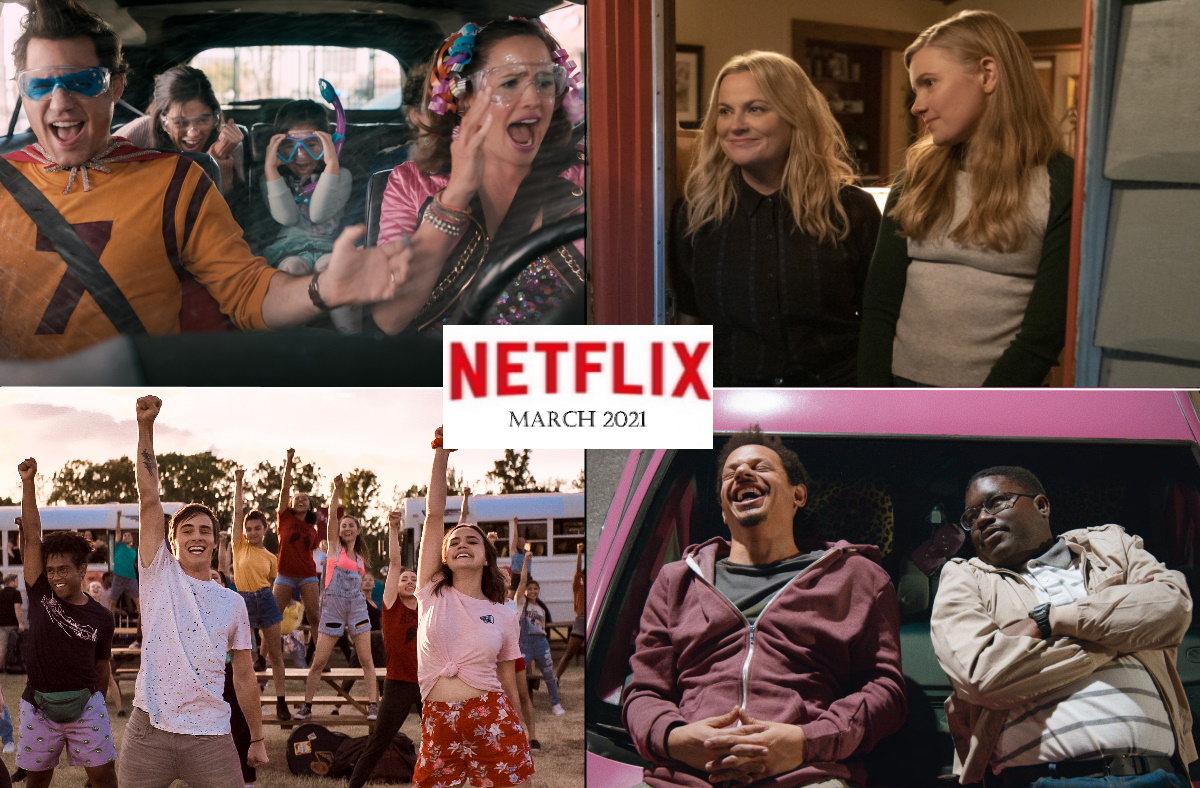 An exciting new selection of March titles will be coming to the streamer! From family friendly finds to chilling documentaries, there's something for everyone. Amy Poehler directs and stars in Moxie, an adaptation of the best-selling novel of the same name; Jennifer Garner brings a family friendly film with Yes Day; and Eric André, Lil Rel Howery and Tiffany Haddish bring their best pranks in the film Bad Trip. Check out our Netflix guide for March.
Originals
Inspired by her mom's (Amy Poehler) rebellious past, shy 16-year-old Vivian anonymously publishes an underground zine called Moxie to expose bias and wrongdoings at her high school in the film, Moxie (Mar. 3). This comedy is entertaining for all ages.
In the Indian original series Bombay Begums (Mar. 8), five ambitious women from various walks of life navigate dreams, desires and disappointments in modern Mumbai.
In the film Yes Day (Mar. 12), Allison (Jennifer Garner) and Carlos (Edgar Ramírez) decide to give their three kids a "Yes Day," during which the kids have 24 hours to make the rules.
A rather cute family friendly series is Waffles + Mochi (Mar. 16), which follows curious puppet pals Waffles and Mochi as they travel the world exploring the wonders of food and culture while learning how to cook with fresh ingredients. The series also features Michelle Obama, famous chefs, fun songs and celebrity guests.
A true-crime series to tune into on March 17 is Under Suspicion: Uncovering the Wesphael Case, which follows the high-profile court case of Belgian politician Bernard Wesphael, who was accused of murdering his wife in 2013.
In the film Country Comfort (Mar. 19), when an aspiring young country singer (Katharine McPhee) is fired from her band, she takes a job as a nanny for a musically talented family.
Netflix's first-ever Christian musical A Week Away premieres on March 26. It follows troubled teen Will (Kevin Quinn), who is forced to either go to juvenile detention or attend a Christian summer camp after a run-in with the law. He attends Christian summer camp, where he discovers love with a camp regular (Bailee Madison) and a sense of belonging in the last place he expected.
A late-night comedy debuting March 26 is Bad Trip. It follows two pals who embark on a road trip full of funny pranks, as they pull real people into the mayhem. Starring Eric André, Lil Rel Howery and Tiffany Haddish.
Top Picks
One sure pick is the Oscar-nominated film Vice, starring Christian Bale and Sam Rockwell. After George W. Bush (Rockwell) is elected President of the United States, Dick Cheney (Bale) becomes Vice President and quickly begins pulling all the right strings to become the most powerful VP in American history. Bale was nominated for an Oscar for his work in the film.
Fan-favorite Bill & Ted Face The Music (Mar. 28) takes us on a new adventure with Bill (Alex Winter) and Ted (Keanu Reeves) as they travel through time to put together the most extraordinary band from people throughout history.
Fans of the musical comedies Pitch Perfect and Pitch Perfect 2 will get to watch both films back to back as the acapella band takes over the streamer on March 3.
It might not be the month of romance anymore, but we don't need a reason to watch the classic film, Serendipity (Mar. 1), starring Kate Beckinsale and John Cusack.
We also recommend the film Diana (Mar. 1), detailing the final years of Princess Diana's (Naomi Watts) life before her death in Paris in 1997. The movie centers on her relationship with British-Pakistani heart and lung surgeon, Dr. Hasnat Khan (Naveen Andrews). Their 18-month relationship ended mere weeks before the accident that caused her death.
Click here for a photo gallery of all the Originals hitting Netflix in March.
Find out below everything that's coming to Netflix this March and also what's leaving the streamer. ~Marriska Fernandes
March 1
Biggie: I Got a Story to Tell – Netflix Documentary
10 Years
Blanche Gardin: Bonne Nuit Blanche
Coroner: Seasons 1-2
Diana
Happy Feet Two
Hit & Run
How to Be a Latin Lover
Jonah Hex
Just One of the Guys
Mary, Queen of Scots
Power Rangers Beast Morphers: S2
RocknRolla
Rush Hour
Rush Hour 2
S.W.A.T.
Serendipity
Shazam!
The American
The Bucket List
The Karate Kid Part II
The Karate Kid Part III
The Mask of Zorro
The Pianist
The Texas Chainsaw Massacre: The Beginning
Thomas & Friends: Marvelous Machinery: A New Arrival
Thomas & Friends: Marvelous Machinery: World of Tomorrow
Trickster: Season 1
U.S. Marshals
Welcome to Marwen
When Calls the Heart: Season 5
You Don't Mess with the Zohan
March 2
Word Party: Season 5 – Netflix Family
March 3
Moxie (Netflix Film)
Murder Among the Mormons (Netflix Documentary)
Being John Malkovich
Blue Crush
Fletch
Friday Night Lights
How To Build A Girl
Oblivion
Pitch Perfect
Pitch Perfect 2
Scarface
Take Me Home Tonight
The Tale of Despereaux
March 4
The Flash: Season 7 (New episodes weekly)
Pacific Rim: The Black (Netflix Anime)
March 5
City of Ghosts (Netflix Family)
Dogwashers (Netflix Film)
Nevenka: Breaking the Silence (Netflix Documentary)
Sentinelle (Netflix Film)
Vice
Yes, God, Yes
March 6
Ladies in Black
March 8
Bombay Begums (Netflix Original)
Bombay Rose (Netflix Film)
March 9
The Guest
The Houseboat (Netflix Original)
StarBeam: Season 3 (Netflix Family)
March 10
Dealer (Netflix Original)
Last Chance U: Basketball (Netflix Documentary)
Marriage or Mortgage (Netflix Original)
March 11
The Block Island Sound
Coven of Sisters (Netflix Film)
March 12
Love Alarm: Season 2 (Netflix Original)
The One (Netflix Original)
Paper Lives (Netflix Film)
Paradise PD: Part 3 (Netflix Original)
Yes Day (Netflix Film)
March 14
The Curse of La Llorona
March 15
A Call to Spy
Bakugan: Armored Alliance
The Last Blockbuster (2020)
The Lost Pirate Kingdom (Netflix Original)
Shithouse
Zero Chill (Netflix Family)
March 16
RebellComedy: Straight Outta the Zoo (Netflix Comedy Special)
Waffles + Mochi (Netflix Family)
March 17
Operation Varsity Blues: The College Admissions Scandal (Netflix Documentary)
Under Suspicion: Uncovering the Wesphael Case (Netflix Original)
The Wedding Guest
March 18
B: The Beginning Succession (Netflix Anime)
Cabras da Peste (Netflix Film)
Nate Bargatze: The Greatest Average American (Netflix Comedy Special)
Skylines (2020)
March 19
Alien TV: Season 2 (Netflix Family)
Country Comfort (Netflix Family)
Formula 1: Drive to Survive: Season 3 (Netflix Original)
One Small Problem (Netflix Original)
Sky Rojo (Netflix Original)
March 22
Navillera (Netflix Original)
March 23
Loyiso Gola: Unlearning (Netflix Comedy Special)
Pokémon Detective Pikachu
March 24
Seaspiracy (Netflix Documentary)
Who Killed Sara? (Netflix Original)
March 25
Caught by a Wave (Netflix Film)
DOTA: Dragon's Blood (Netflix Anime)
Secret Magic Control Agency (Netflix Family)
March 26
A Week Away (Netflix Film)
Bad Trip (Netflix Film)
Croupier (1998)
Honest Thief
The Irregulars (Netflix Original)
Magic for Humans by Mago Pop (Netflix Original)
Nailed It!: Double Trouble (Netflix Original)
March 28
Bill & Ted Face The Music
March 29
Gods of Egypt
Rainbow High: Season 1
March 30
Octonauts & the Ring of Fire (Netflix Family)
March 31
Haunted: Latin America (Netflix Original)
LAST CALL
March 1
Jaws
Jaws 2
Jaws 3
Jaws: The Revenge
The Bourne Identity
The Bourne Legacy
The Bourne Supremacy
The Bourne Ultimatum
March 3
Rectify: Seasons 1-4
March 7
A Star Is Born
March 30
Anchorman: The Legend of Ron Burgundy
Madagascar
Madagascar 3: Europe's Most Wanted
Madagascar: Escape 2 Africa
Spy Kids
Spy Kids 2: The Island of Lost Dreams
Spy Kids 3: Game Over
Spy Kids: All the Time in the World
March 31
Peppa Pig: Seasons 1-5
---
---
---
---
Similar Articles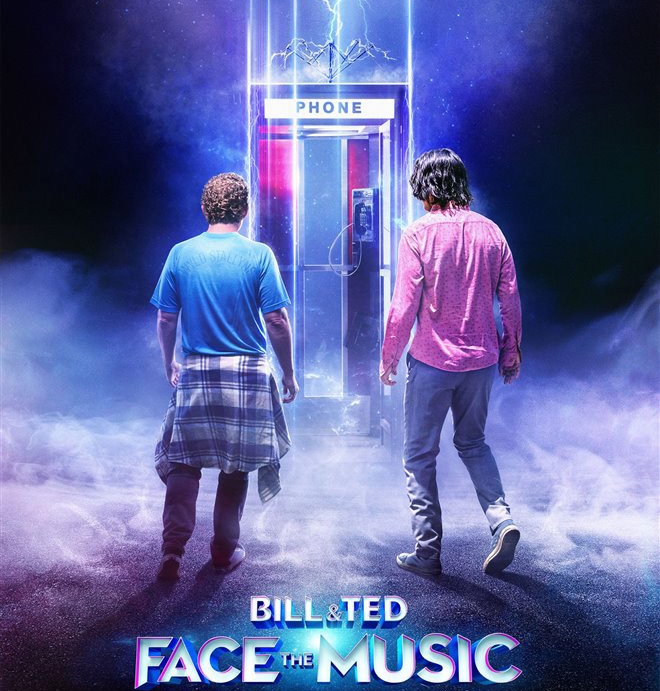 June 9, 2020 | Leave a Comment
Bill and Ted are back! Take a look at the first trailer for the highly anticipated new movie, Bill and Ted Face the Music, starring Keanu Reeves and Alex Winter.
---