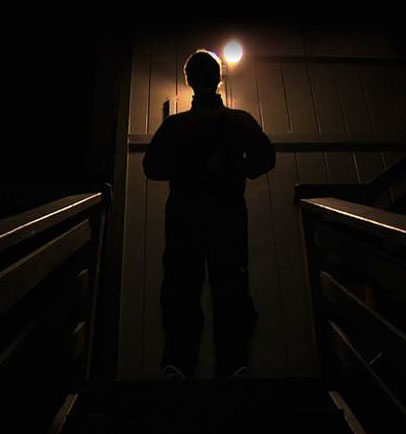 The comedy horror film Creep has found a home on Netflix. Patrick Brice directed and starred in the film, which is set to stream globally on July 14, 2015.
Creep premiered at SXSW in 2014 to critical acclaim. It's Brice's first feature film as director, writer, and actor. Mark Duplass co-wrote the script and also stars in the movie.
Brice plays Aaron, an optimistic videographer who decides to answer an ad on Craigslist. Duplass plays Josef, the man who placed the ad. Aaron's job is to film Josef throughout the day while remaining discreet about the setup. Josef tells Aaron that he'll be recording videos for his unborn son as he's suffering from a terminal illness and won't be around to see him grow up.
Aaron is up to the task despite Josef's strange behavior. However, throughout the day the requests become increasingly strange and Aaron finds it difficult to tell whether Josef is joking, in danger, or mentally unstable.
Netflix is the exclusive streaming home of Creep so watch for the premiere later this summer. ~ Andree Rhooms