Emma Roberts one-on-one interview
By Alexandra Heilbron on May 14, 2007 | 8 Comments
Emma Roberts interview conducted by Bonnie Laufer/Tribute magazine
May 11th 2007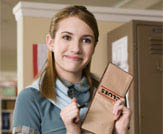 Q: Congratulations on everything. From a successful TV show, to your music and now with Nancy Drew coming out, how at 16 do you handle it all?
E.R. I'm just having lots of fun. I really like what I am doing and I am just having a good time.
Q: Do you have time for school?
E.R. Oh yes, I have a tutor and we have three hours of school every day. That way I am caught up on my work and then when I am not doing school work I am shooting something or other.
Q: Unfabulous your TV series, what is the status on that? 
E.R We wrapped the show and the third season starts airing in June.
Q: You must be sad that it is over. It looked like you had fun working on it.
E.R. Yes, I loved working on the show and I am sad it is over, but now I can concentrate on films and give that my full attention.
Q: You must be extremely excited about the release of Nancy Drew. When I was a young girl I think I read every single Nancy Drew book that was written. So when you found out that you were up for the role, had you been familiar with the books?
E.R. I had known about her but more in the way of the iconic character that she is. I hadn't really read the books when I was younger I think that me and friends, it kind of liked skipped over us. We were more into the Harry Potter thing. All of my friends' older siblings had read Nancy Drew and now I think because of the movie, young kids will start reading them again.
Q: Knowing you were up for the role, did you begin reading some of the books to get a sense of who Nancy Drew was?
E.R. I read a book called "The Girl Sleuth" which is about the making of Nancy Drew and the history behind her. Right now I am trying to read some of the books, I have a bunch of them because everyone is giving them to me as presents! I have about 20 right now to get through.
Q: Why do you think kids (mainly young girls) identified with Nancy Drew and loved reading those books?
E.R. I think it was because at the time when they came out there wasn't really a girl icon that girls could look up to that was their age. I think the same thing rings true now. There are not a lot of relatable girl icons who are out there, like people you can really look up to that are your age. So I think that's why so many girls love her. Also, she's really cool!  She does all this cool stuff like solving mysteries and going on adventures.
Q: So what appealed to you mostly in terms of taking on the role?
E.R. The fact that I was going to play someone who is so admired and iconic and everyone knows who she is and likes her I think. I felt honored to play somebody so well liked and influential.
Q: So, having said that—taking on such an iconic character was it all daunting or did it make you a little nervous in the beginning?
E.R. At first when I actually got the part I was like, OK…  I have the part now, what am I going to do with it? But, I really just got into the character and had such an awesome time doing it.
Q: Did you have to do anything really unique to get into her head?
E.R. One thing I noticed as I got to know her is that her ability to solve crimes is dependent upon her attention to detail, so I tired to be really aware of things. She looks in places where nobody would think to look and really listens to what people say. She pays attention to mannerisms and body language.
Q: How much did you relate to Nancy? Do you like to solve mysteries or would you rather just watch those types of shows on TV?
E.R. I think we are both very ambitious, and we are both a little bit nosy, we like to know what's going on. We're alike and we are different in a lot of ways. She's a perfectionist to the extreme and I am not really.
Q: The story for the film is not taken from any of the books, right?
E.R. Exactly, it's a fresh story. It's basically Nancy Drew moves with her dad to Hollywood and she unravels a Hollywood movie star murder mystery.
Q: I guess working at home in Los Angeles must have been nice for you?
E.R. It was fun and great to be working where I live for a change and not have to fly anywhere. It was kind of funny because we caused quite a scene when we were shooting around town. I'd be in my Nancy Drew prim and proper costume and people were always doing second takes. When we shot at Hollywood High School I looked really different because trust me, the girls were not dressed like me! Everyone is looking at me like, who is this girl? (laughs)
Q: Is it set in 2007?
E.R. The story is current, but Nancy's character is the same as she is in the books, which is what I think is really cool about it.
Q: So obviously you had some interesting fashions to wear in this movie?
E.R. Oh yeah… I actually really liked her wardrobe. I got to wear some really cute matching little suits and some cute little dresses.
Q: Once you started to work on the film there had to be some great moments that stood out for you. Especially when you had to shoot scenes with Nancy's famous cool convertible.
E.R. I didn't really get to drive because I was only 14 turning 15 when we started shooting the film. I couldn't even get my permit yet! I was attached to a back of a trailer and they would pull me along the streets. It was quite the spectacle. It was a huge rig that you'd look at if you were passing it. We'd be driving down Hollywood Boulevard in this thing and everyone would be like, 'What is going on?'
Q: I would think that it must have been pretty tight in there with your co-stars and a camera man inside?
E.R. Yeah, it was really small. It was a bathtub on wheels is what we called it.
Q: You have some pretty cool co-stars in this movie. Tate Donovan plays your dad.
E.R. He was so much fun to work with, he was one of the coolest guys. We would constantly be cracking up. It was hard to keep a straight face some days!
Q: I would think from a lot of the things you have done that would be hard for you! How do you keep it all together and get on with your work without constantly cracking up?
E.R. You don't really discipline yourself, you try, but trust me it is hard. Sometimes we get into these laughing fits and you can't stop. It goes on and on but you have to just try and think of something not funny and get serious to make it though the scene. The good thing is that everyone I have worked with just laughs a long and it hasn't been a problem.
Q: Also starring in Nancy Drew with you is Rachel Leigh Cook. How was she to work with?
E.R. I love her, and when I was younger I loved watching her movies, she is amazing. I was so excited when I found out she was going to be in it.
Q: Did you look up to her as a mentor on the set?
E.R. She was really fun and didn't act like she was way older.
Q: Max Thieriot who was recently in Astronaut Farmer—he plays your love interest Ned.  
E.R. I still keep in touch with him—we became good friends on the set.  He's really cool and I totally love him. We had lots of fun working together. He's Nancy's boyfriend, it worked out fine. We got along almost immediately from when we met so we would kind of laugh at some of the scenes we had to do when it came time to being boyfriend and girlfriend, you could say.
Q: Your director was Andrew Fleming who also co-wrote the script.
E.R He was great. Before we started shooting we worked together on some acting exercises and he really helped me a lot to get into character. He was fun to work with and I learned a lot from him. He's also a really funny guy and didn't mind too much when I got into one of my laughing fits! Q: Lets face it, the other films you have done you have had co-stars with equal billing but in this movie you are the lead. It's all about Nancy Drew! Was that at all scary or intimidating for you?
E.R. It's OK.  It was kind of overwhelming at first, but I am really excited about it too! I can't wait for the movie to come out and see what everyone thinks about it. Q: Given your family background (her dad is Eric Roberts and aunt is Julia Roberts) was it always inevitable that you were going to become an actor?
E.R   I think that it was always something I wanted to do ever since I was a very little girl. I don't ever remember wanting to do something as much as wanting to act. The only other thing I remember wanting to be was a lawyer, but I think that's because I saw Legally Blonde. (laughs)Q: It's so nice to see your father back in the spotlight again. (Eric can currently be seen in the TV show Heroes). Did he ever give you any advice about the business?  Was he at all helpful to you with your career?
E.R.   A lot of people think I get advice from my family just because they are in the business but I don't really.  I like to do my own thing and I learn as I go along. You learn things from people you work with. I don't really have pieces of advice that I was given.Q: I am sure you get asked all the time about your Aunt Julia. To the world, she's a huge movie star, Oscar winner, etc… but to you, I am sure she is just Aunt Julia. 
E.R. You are right, that's exactly how it is. It's so much fun when I can hang out with her. The babies are so cute and we are all so excited for her to have her third. I don't think of her as a movie star, she is just my aunt.
Q: What kind of fun things do you do with her when you do get together?
E.R. Mostly when I see her I go to her house and we play with the kids. We love to cook, and have lunch, talk and catch up because I don't get to see her on a regular basis. We like to hang out.Q: Many people have commented on how much you look like her. That's a nice compliment.     
E.R. I don't really think I look like her very much but I was on a talk show recently and they held up a picture of me and my aunt together and in those particular pictures we did look a lot alike. But I think it's mainly the smile that is similar.  I think it is really cool to be compared to her because she's an amazing actress, but I do kind of want to make a name for myself and accomplish something on my own.
Q: You got your first role when you were 10 as Johnny Depp's daughter in Blow. Not too shabby, Johnny Depp as your first co-star.
E.R.   I was really excited when I got it but I don't think I understood really how cool that was. To have your first audition and then to have it with Johnny Depp is pretty amazing, that's for sure.  When I look back at it in hindsight, it's like—WOW—Johnny Depp!
Q: You were recently named "Star of Tomorrow" at ShoWest in Las Vegas, and you are getting a lot of attention for your work. How are you feeling about all of this?
E.R. It's all great, but at the same time overwhelming. I am doing what I love and getting an award like that is a bonus. It was really cool.
Q: You have also released an album, so are you pursuing your music any further too?
E.R. Right now I am focusing on movies, I am getting ready to start a new movie this summer so that is taking a lot of my time.  I think when I am a little bit older it is definitely something I'd like to pursue.
Q: You look at kids in Hollywood, some turn out great and some don't turn out so great. How do you keep it all together and what's your secret to staying grounded and not let this business affect you in a negative way?
E.R. I think it is easy to get caught up in it but for me I have been around it for so long and it's not something I take for granted. It's not new so it's not something for me to get overwhelmed by. I think that is one of the things that keeps me normal I guess you can say.
Q: It's kind of scary, you look at some of the young stars today—I won't name names but you know who I am talking about, and you see some of the crazy things that they do I would hope that you would use them as an example on how NOT to act.
E.R. That kind of stuff never really interested me. I also think that when you are in the spotlight you have a major responsibility and there are kids and fans that look up to you. It's so important to be presented in a good way and not act crazy or do dumb things when you are in public. There are so many paparazzi or people just waiting for you to do something dumb so it's important to keep that in mind and keep things in perspective. Do what you want in private but in public, behave!
Q: So other than a possible law career was there ever anything else you really wanted to do had you not gone into acting?
E.R. I have always been interested in fashion; I would have loved to design clothes. I also have a huge interest in writing and direction so who knows I may still be able to try my hand at those things.
Q: I'd say—you are only 16—the sky's the limit!! What's an ideal day for you?
E.R. When I'm not working I really just love to hang out with my friends and going to the beach. I love to go to the movies as well but mostly just chill with friends and be a normal teenager.
Q: Is there an actor or actress that you would just love to be in a movie with?
E.R. That's a hard one because I admire so many actors but I think I would have to say Shia LaBeouf.  I really like him and I think that he is a good actor. He's gone from being such a good kid actor to a really competent older actor. And… he's cute! (laughs)
Q: Your next movie is called Wild Child and you start shooting that this summer. Can you tell us a little bit about it?
E.R. It's about a Malibu princess who isn't getting along with her dad so well because she behaves pretty badly, so he ships her off to boarding school in England. It's a very cute story and I am so excited because I get to shoot in London all summer.
Q: Anybody co-starring in this yet that you can tell me about?
E.R. Not yet, we are just working out the final details on the co-stars.
Q: Well—best of luck with everything Emma—I know there are a lot of people out there very excited to see you as Nancy Drew!
E.R. Thank you so much, great talking to you.
---
---
---
---