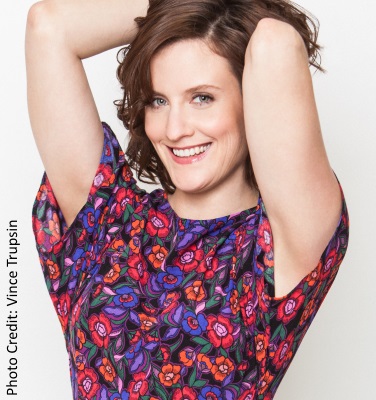 The latest inmate from Orange is the New Black whom we had the pleasure of chatting with is Julie Lake, who plays the goofy and lovable meth head, Angie Rice. Being BFFs with Leanne Taylor has certainly put her in the spotlight at Litchfield. Believe it or not, this was Julie's first series gig, although she has been acting in theater for a long time. We chatted with the actress to discuss working with the ensemble cast and stepping into the shoes of  a Litchfield inmate.
You play Angie Rice, how would you describe her?
Angie is a lovable meth head and she is goofy with a dirty sense of humor. She likes to make people laugh but she has low self-esteem so kind of follows Leanne's lead. That leaves her to exclude people. I think she is just trying to make Leanne happy.
It's your first television gig. How did you land the role?  
It's my first television gig but I have been acting my whole life. I sent in a tape and I was cast from that.
How did you prepare to bring meth head Angie to life on screen?
I didn't have information on Angie other than she is a meth head. I had the lines of the first script, which was a bit goofy. So I just made up a backstory for myself, how she'd walk and how she'd talk and finally landed on how she is now. I wasn't going off a lot of information so I made up a lot for myself.
Tell me about Angie's accent! How did that come around?
It's sort of a Boston accent. I'd seen a documentary called High on Crack Street: Lost Lives in Lowell and there was a character in it who was very goofy from Boston named Brenda and I sort of imagined she might be how Angie is. It was modeled on her – kind of Boston accent and little bit Eastern.
What's it like working with a huge ensemble cast?
It's really fun actually because going to the set is like hanging out with my friends. If we're not on camera we're all piled into one dressing room. It's fun! But it's also such an amazing ensemble of actors so it was a real learning experience working with them. Also, it is easy to act with good actors. They just take you along for a ride. It's just been a great experience!
Do you have a favorite memory from filming on set?
Yes, it was certainly while filming episode 13 of season 3. We went off into the woods and we were swimming around in the lake together. I felt like I was a kid at camp with friends. I was laughing so hard at the lake after playing Marco Polo like for 45 mins, it was really fun!
Did you get to improvise a lot?
Sort of. I will improvise at the end of the scene if I know I can get away with it. It's always fun to see what ends up on the show. I'm always surprised.
If you could decide the story line for Angie, what would you have her do?
I would want more dramatic stuff. Most of what Angie does is goofy and funny. I just want to see her softer, dramatic side. I want to see her maybe fall in love.
You studied theater at Yale, right? Do you plan to continue television or go back to theater?
Yes, I want to do it all. For me acting is acting, be it theater, television or film. I just want to keep acting. Whatever form it is, it doesn't matter.
Will we get to see you in Season 4?
Yes, I'm in season 4. We just wrapped the first episode.
What's next for you?
I'm pitching a show from the girls in my comedy group. I'm waiting to see how that goes. I'm doing a lot of writing on my own. I'm getting married in December and planning a trip to Argentina. I kind of have a lot of stuff on my plate.
Congratulations on the wedding and hoping to see more of you on screen! Thanks for chatting with us!
Thank you so much! It was nice talking to you.
~Marriska Fernandes