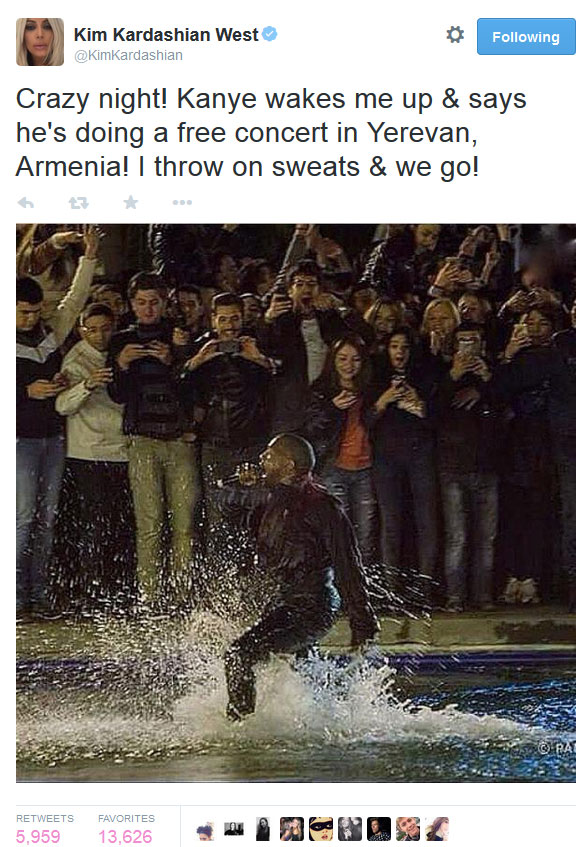 If your friend told you to go jump in a lake, would you do it? If that friend is Kanye West, you might.
The rapper was giving a free concert in the Armenian capital of Yerevan Sunday night when he jumped into the city's famous Swan Lake during a performance of Good Life.
Fans followed suit and jumped in with him, mobbing Kayne until security guards waded in to help him out. He was not injured in the incident but police shut the concert down afterwards, according to People magazine.
Kayne is visiting the country with his 22-month-old daughter, North West, his sister-in law Khloe, and his wife Kim Kardashian, who seemed to enjoy her husband's strange antics at the concert. Kim tweeted in regards to Kayne's impromptu splash, "Thousands of people were there! Kanye jumped in swan lake to be closer to the crowd on the other side & so many people jumped in too!" Kim also tweeted a photo of Kanye in the water (at left).
The family is currently on a tour of the Middle East. The next stop will be Saint James Cathedral in Jerusalem where the couple plan to baptize little North this afternoon.
Kim and her sister have close ties to their Armenian family heritage and parts of this family trip will be featured on an upcoming episode of Keeping Up With The Kardashians. ~Suzanne Coolen