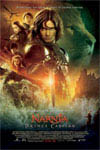 The Chronicles of Narnia: Prince Caspian is set to hit theaters this May, and a new Nintendo DS game based on the movie will make fans feel like they are part of the action.
Heroes like Prince Caspian don't tap the A button to fend of enemies on the battlefield, so why should gamers? It's always more fun to swing the sword yourself. Prince Caspian let's you do just that with action that strikes down the bad guys with the flick of a wrist. Using the innovative dual touch-screens, gamers can use the stylus to conjure a spell or pull back a bow and fire an arrow at a distant enemy. Blowing into the DS' microphone will even sound the horn and send your fellow combatants scurrying in retreat. "We've tried to reinforce the feel of the attack. It really enhances the experience – everything matters more," said Prince Caspian's game producer, Brian Green of Fall Line Studios.
Guiding players through the world of Narnia is 18 familiar characters that take the story beyond what's seen in the blockbuster movie. Storybook mode lets gamers literally turn the pages of the legendary C.S. Lewis novel and immerse themselves in the dangerous world of Narnia. "It's a much deeper experience then just having you play a character and go around striking things. It allows you to grow these characters, which is far more satisfying," said Green.
Another cool new feature to Prince Caspian is the launch of DGamer, Disney's new online social community. Nintendo DS players can log on and create an avatar, chat with friends, collect rewards and see how they stack up in worldwide rankings.
The Chronicles of Narnia: Prince Caspian for Nintendo DS hits shelves May 15, 2008.
– Mark Foster