Phantom Thread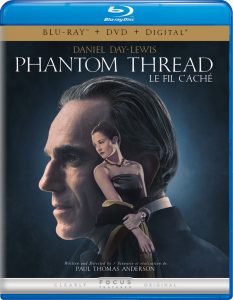 , at first glance, is a romantic look back at a fictional fashion house — House of Woodcock — in the 1950s. The designer, Reynolds Woodcock (Daniel Day-Lewis), lives modestly in the gorgeous mansion where the company is located. At the beginning, it's reminiscent of a 1950s movie, set in the realm of the uber-wealthy.
The sets are sumptuous, the costumes elegant, the hair beautifully styled. The opening scenes are a feast for the eyes as the workers bustle in — albeit quietly and efficiently — and make their way upstairs to their working quarters, which are just as lavish as the rest of the house.
Woodcock greets the workers and makes his way downstairs to have breakfast with his sister, Cyril (Lesley Manville), who runs the business end of things and makes sure Woodcock, who's extremely fastidious and meticulous in everything he does, has everything just as he likes it. She may get on his nerves at times, but that's an easy thing to do and she knows when not to push him.
After designing a particularly elegant dress for a client, Woodcock takes a little break and while ordering breakfast at a restaurant, meets a fresh-faced waitress named Alma. He immediately falls for her and they begin a relationship that appears strange from the outset. In fact, it almost appears as if they already knew each other as they share knowing smiles during their first encounter. When she writes down his order, which is lengthy, he flirts, telling her he's keeping the paper she wrote it down on, after asking if she'll remember it.
He then takes her home and has her measured for a dress. She begins living at the Woodcock mansion. However, Woodcock informs her he's a confirmed bachelor and will never marry, because he's set in his ways. It's an honest statement — he likes everything done in a certain way and if anything, such as Alma slicing her toast or pouring tea, is too noisy, he gets very upset. You can see the annoyance bubbling in him until he almost bursts.
However, Woodcock eventually tells Alma he needs her and can't live without her. That is, when he's not extremely irritated by her. It's like watching a ping-pong match, as their relationship goes up and down and really just doesn't seem to make sense at times, especially when we're finally let in on the bewildering secret of their complicated attraction.
Daniel Day-Lewis as always, does an outstanding job of inhabiting this finicky, eccentric man. Every movement he makes, everything he says, is done with quiet precision. It's not difficult to see why Day-Lewis — already a three-time Oscar-winner — earned a sixth Academy Award nomination in the Best Actor in a Leading Role category for his work in the film.
Blu-ray Extras:
Camera Tests: Rather than screen tests in which the actors audition, these tests are for filters, lights, cameras, lenses, costumes, props and even sets, to see how they appear on the screen. We also learn that Day-Lewis learned to sew, cut, and drape with Marc Happel, Director of Costumes for the New York City Ballet. Day-Lewis actually spent a year as Happel's part-time apprentice in preparation for the film. We also witness a strange food fight between Woodcock and Cyril that didn't make it into the film. This extra can be watched with or without audio commentary by director Paul Thomas Anderson.
For the Hungry Boy: A selection of some deleted, but mostly extended scenes, some of which give us more of a glimpse into the happier side of Alma and Woodcock's relationship. Note: "For the hungry boy" is what Alma says when she first delivers Woodcock's breakfast, because despite his slight frame, he orders a large amount and variety of food.
House of Woodcock: This fashion show, narrated by Adam Buxton, is a colorful two minutes of models and Alma modeling fashions designed by Woodcock. It's presented in a vintage, newsreel style.
Behind the Scenes: A show of photographs from the film taken by photographer Michael Bauman, with demo versions of Jonny Greenwood's score.
If you have seen Phantom Thread and would like to rate/review it yourself, click here. ~Alexandra Heilbron