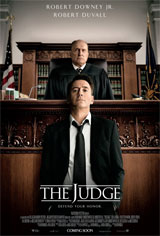 It's Thanksgiving weekend and a slew of new movies are at the theater for your movie going entertainment, including one that recently screened at the Toronto International Film Festival. The Judge stars Robert Downey Jr. as a big city lawyer who goes home for his mother's funeral, only to find his father, played by Robert Duvall, is suspected of murder. Adorable Canadian child actor Emma Tremblay plays Downey Jr.'s daughter. Watch our interview with Emma at TIFF by clicking here. Find showtimes here.
Also in wide release is Dracula Untold, a new version that tells how the bloodsucker, played by Luke Evans, goes from a loving family man to a monster. Check showtimes here.
If you've got kids, you won't want to miss Alexander and the Terrible, Horrible, No Good, Very Bad Day. Despite the clunky title, this is based on the popular childrens' book of the same name and definitely promises a good time at the theater, starring actors such as Steve Carell and Jennifer Garner. Check showtimes here.
If you're in the mood for action, (Jeremy Renner) stars in Kill the Messenger as a journalist who finds himself in danger when he reports about the CIA's involvement in drug smuggling and arming Nicaraguan rebels. Find showtimes here.
Music lovers may enjoy One Direction: Where We Are – The Concert Film. Starring Harry Styles, Niall Horan, Louis Tomlinson, Liam Payne and Zayn Malik, it shows the boys in concert at Milan's iconic San Siro stadium as well as a never-before-seen backstage tour and interview with the band. Playing October 11 and 12 only at select theaters. Find showtimes here. Happy Thanksgiving!