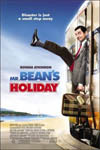 Funnyman Rowan Atkinson talks to Tribute's Bonnie Laufer-Krebs about his new movie Mr. Bean's Holiday and how this may be the last we see of the quirky English character.
When did you discover you could use your face as a comedic vehicle?
When I was at Oxford University I was doing research in engineering science and some friends of mine were doing a show. We were putting on a comedy review for a Sunday night and they asked me, "Would you like to do a sketch on this show?" I'm not much of a writer so I just stood in front of the mirror and just started to pull faces. Since then, anything and everything I've done has just been instinctive. I've just hoped that the face I think I'm pulling is the face that I'm actually pulling.
How did Mr. Bean come about?
I was working with a dear friend of mine Richard Curtis, who I met at university. He's actually an extremely famous screenwriter now. And he's written or co-written virtually everything I've ever done, including Mr. Bean. One day he said, "Why don't we do a sketch about a man who can't stay awake?"So, I said, "Well okay." This turned into a Mr. Bean sketch set at a church, in which a very boring sermon is going on and Mr. Bean falls into the lap of the person next to him and there are certain ramifications and consequences. "Mr. Bean" was christened 10 years later. He didn't have a name for ten years.
So what it is about this guy that enchants audiences?
The fact that really he's a child trapped in a man's body, I think children identify with him absolutely immediately. They just see one of their own species in Mr. Bean. Adults see the sort of inner child within themselves. So in many ways, Mr. Bean is just somebody who'smentally stayed a child but physically suddenly he's allowed to drive cars and things like that.
But in Mr. Bean's Holiday, he cares for a little boy.
Yes, he does, I know and it was side effect that we hadn't anticipated. You know, it's like a little buddy movie. And because they're both essentially children, Mr. Bean and the child, it means they connect very well. But undoubtedly, Mr. Bean is the elder brother. So he takes a slightly paternal, rather sort of fatherly attitude for the boy, which actually I've never seen Mr. Bean do before.
How on earth did actor Max Baldry keep a straight face opposite you?
Well, to be honest, he didn't. We managed to cut around his bits of laughing and giggling. There's a scene on the train where Mr. Bean is trying to entertain the boy when he first meets him because the boy is sad because he lost his father and Max had to look absolutely unamused. He was very professional and he did at least one or two takes in which he managed to maintain a complete serious look.
There's some obviously classic Mr. Bean stuff in the film, but one of the funniest parts was the busking sequence.
It was strange how well it worked because it didn't seem like a very funny idea when we first thought of it. You know, Mr. Bean just miming to an opera singer. At that point, Mr. Beanhas to make some money in order to go and find his beach that he is in pursuit of and also find the boy's father so there's sort of a story imperative driving the whole thing. There's the fact that he does it with the boy and the boy acts in the little scene that Mr. Bean creates and the ridiculous way the passion with which Mr. Bean delivers the operatic singing is just very engaging. So it'sworking on two levels. It's working on quite an emotional level, as music like that always does, and it's working on a sort of comedy level of just what a daft idea to just stand in the middle of a marketplace and pretend that you're an operatic soprano.
You have recently said that this may be your last Mr. Bean film ever!
I don't know yet exactly, and I'm not saying never. My instincts tell me at the moment that it is highly unlikely that I will do another Bean thing or another Bean movie. I've always regarded Mr. Bean as a sort of ageless, timeless sort of person and I didn't particularly want to see him looking or acting too old. And it's a very physical role. But could I still do it in two three year's time? Oh well, I'm not so sure.
I understand. Maybe he'll go on another trip… you know when Mr. Bean comes to Toronto. That would be a good film.
Yes, yes, yes. Absolutely. You know, I was thinking generally Canada is a very rich place. You've got a very rich environment and a very rich and varied climate. You know, a winter sport has a lot of potential.