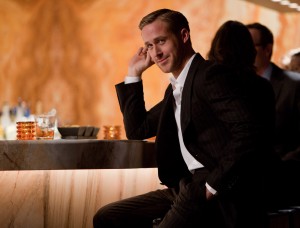 Ryan Gosling teaches Steve Carell how to pick up women in Crazy, Stupid, Love.
—By Toni-Marie Ippolito
Ryan Gosling may have a proven track record playing romantic leading roles and strong dramatic parts, but in his new movie Crazy Stupid Love, the Oscar-nominated actor takes things a step further by tapping into his humorous side.
It helped, of course, to have Mr. Funny on the project,  Steve Carell, to assist him in his first-ever comedy. "Working with Steve, I think everyone you talk to they just rave about him, not just because he's nice but also because he really does make you better," Gosling said in New York. "He can take anything your doing and make it funny somehow."
When told his character Jacob, a lothario who takes home a different woman every night, is actually quite funny in his own right, Gosling says he can't take all the credit. "They edited it to make me quick, first of all, and there were a lot of takes!" Gosling said, modestly.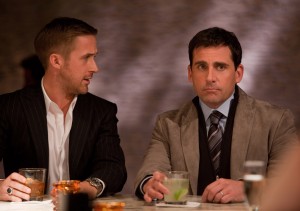 In the film, Gosling's character is a love-averse playboy who takes Steve Carell's Cal under his wing to teach him how to pick up women after Cal's wife (Julianne Moore) suddenly dumps him for another man. Not only does he give Cal a makeover, but teaches him his special skills in the art of the pick-up lines.
As Cal watches the sharply dressed and devilishly handsome Jacob close the deal at the bar, night after night, he wants in on the action, too. After all, what girl would say no when Gosling asks, "Wanna get outta here?" For Gosling, the pick-up scenes were surprisingly not easy to do.
"It was challenging to go into these bar situations and try to hit on girls," Gosling admits. "It's just embarrassing. And you're doing it at eight in the morning and you're pretending there's music but there's not so you're yelling at some nice person you've never met. So you walk up to them and yell pick-up lines. You just feel like a knucklehead you know? That part was hard.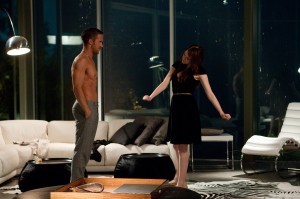 Gosling also shared scenes with Hollywood It Girl Emma Stone, who, in the movie, is the only girl who doesn't give in to his womanizing ways. "There's nobody like her," Gosling gushed about his co-star. "I just like her so much and I hope we get to make a lot of movies together." In fact, Stone's Hannah—with whom Jacob ultimately falls for—turns the tables on Jacob in one scene by demanding he take his shirt off revealing Gosling's washboard abs.
Although he admits he worked out pretty hard, Gosling said there might have been some photo shopping involved. "I think there was at the end of the day," Gosling joked. "I haven't seen the final film, but there must have been!"
Crazy Stupid Love opens July 29.
Click here to watch interviews with Steve Carell, Julianne Moore, Emma Stone and Ryan Gosling.