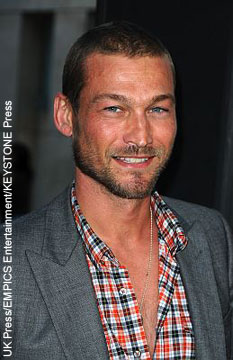 Andy Whitfield, who played the title role in Starz Entertainment's original series Spartacus: Blood and Sand, passed away yesterday in Sydney, Australia at age 39 of non-Hodgkin's lymphoma.
"On a beautiful sunny Sydney spring morning, surrounded by his family, in the arms of his loving wife, our beautiful young warrior Andy Whitfield lost his 18 month battle with lymphoma cancer," Whitfield's wife Vashti said in a statement. "He passed peacefully surrounded by love. Thank you to all his fans whose love and support have help carry him to this point. He will be remembered as the inspiring, courageous and gentle man, father and husband he was."
"We are deeply saddened by the loss of our dear friend and colleague, Andy Whitfield," Starz President Chris Albrecht said in a statement. "We were fortunate to have worked with Andy in 'Spartacus' and came to know that the man who played a champion on-screen was also a champion in his own life. Andy was an inspiration to all of us as he faced this very personal battle with courage, strength and grace. Our thoughts and prayers are with his family during this difficult time. He will live on in the hearts of his family, friends and fans." Whitfield was born in Wales but lived in Australia. He'd made only a few guest appearances on Australian TV when he was cast in the starring role in the Starz series.
He was diagnosed in March 2010, during hiatus between the first and second season of the show. Production on the second season was delayed, and as they waited for Andy to recover, Starz shot a prequel series, Spartacus: Gods of the Arena, using other actors. Finally, in January they announced Australian actor Liam McIntyre would take over the role of Spartacus. Whitfield leaves behind a wife, Vashti, and two children.