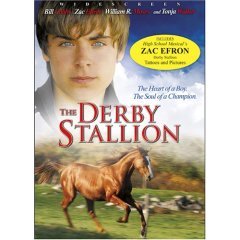 15-year-old Patrick McCardle (Zac Efron) doesn't know what his goals are. His dad wants him to follow in his steps as a major league baseball player, but Patrick's heart isn't in it. He spends a lot of time with Houston Jones, a retired steeplechase rider, and he likes to be around horses. So when Houston asks him if he'd like a crack at riding in a race, Patrick jumps at the chance.
His parents are lukewarm about the idea. Houston has a reputation as an alcoholic, and they're afraid Patrick might get hurt. Meanwhile, Randy Adams, the current champion, is a bit of a bully and keeps vandalizing Houston's property, which causes conflict between the two boys.
Another source of conflict is a new girl in town, Jill, who immediately attracts the attention of both Patrick and Randy. Patrick learns to ride, but when a tragedy occurs, he has to make an important decision that could affect his future.  Zac Efron does a credible job as Patrick, a boy who wants to please his parents but has to be true to himself. His interactions with Bill Cobb as Houston are multi-layered, and when he runs into Randy (more often than he'd like), his conflict obviously runs deep.
Thought it was filmed in 2005, the film was released last month and it's obvious that the filmmakers are directing their campaign at fans of High School Musical, if the Zac stickers and postcards within the DVD are any indication. However, this is a family tale that will be of interest to all ages, not just teenyboppers with a crush on Zac.