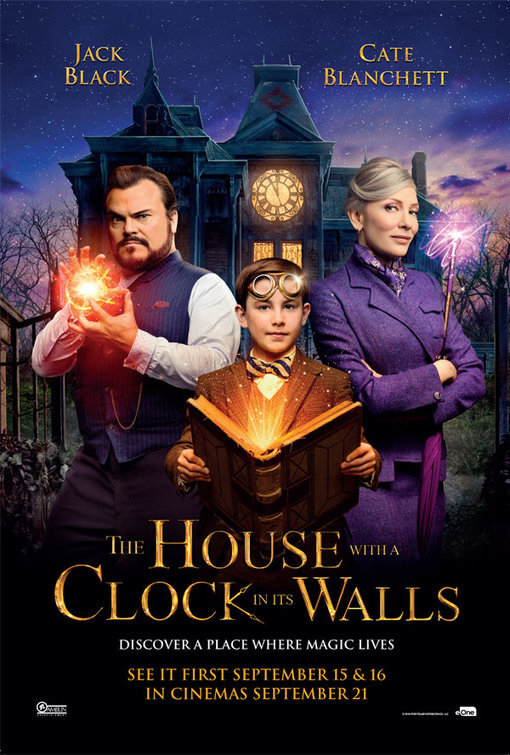 One brand new release pushed past the competition to earn a spot in the top five at the box office this weekend. Check out all top five films from this weekend – September 21 to 23, 2018.
Topping the box office was The House with a Clock in its Walls, which dazzled audiences, debuting with $26.6 million. This fantasy stars Jack Black as a magical warlock whose house has a dangerous clock hidden somewhere in its walls.
Audiences are still enjoying A Simple Favor, starring Anna Kendrick and Blake Lively, which moved up one spot to second place in its second week. The mystery earned an additional $10.3 million at the box office, bringing its domestic total to $32.4 million.
The horror film The Nun continues to terrify and thrill viewers, earning an additional $10 million for a domestic total of $100.6 million in its third week.
The Predator dropped to the fourth spot and earned an additional $9.2 million, bringing its domestic total to $40.9 million in its second week. This sci-fi thriller follows a group of ex-soldiers who must band together to protect the world against the threat of deadly extraterrestrial warriors.
Rounding out the top five was the romantic comedy Crazy Rich Asians which earned $6.3 million in its sixth week to bring its total to $159.3 million. Economics professor Rachel Chu (Constance Wu) discovers her handsome boyfriend comes from a wealthy family in Singapore whose matriarch isn't particularly fond of their relationship.
Which movies did you see this weekend? Let us know your thoughts below! ~Caitlyn Clancey