Interview with Tron: Legacy vehicle concept designer Daniel Simon
By Tribute on December 1, 2010 | 1 Comment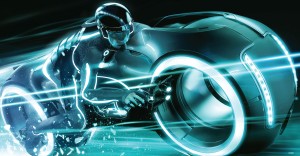 In the upcoming Tron: Legacy, Sam Flynn (Garrett Hedlund) enters the fantasy gaming world in search of his missing father, Kevin Flynn (Jeff Bridges), the famous video game hacker who disappeared mysteriously over 20 years ago. Once there, Sam, with the help of the sexy, Quorra (Olivia Wilde) goes on a dangerous mission to get out alive. Besides looking futuristic and breaking barriers with its technology Tron: Legacy will have car and gadget lovers highly amused. While in L.A., Tribute's Toni-Marie Ippolito talked exclusively to Tron: Legacy's vehicle concept designer Daniel Simon, who developed the new and cool vehicles in Tron, including the famous light-cycle.
How cool is your job?
Simon: I'm sitting here in a room and talking about my work, and getting paid for it! How much cooler can it get?
Was this pretty much a dream job for you? Have you worked on many other movies before?
Simon: This is my first movie.
What was the experience like for you working on film as opposed to designing vehicles?
Simon: It was everything. I got pulled into a different country, in a different language, and a different society. In a movie, it's a completely different feel. In car design you know you have one year, and you have to go step by step. This is an organized catastrophe. At any given day you have to be ready with everything. It can be that the director says "this one's done and I need a new one." And you're like, "oh my god! I only have two months, no way!" So your design approach is completely different. You develop, let's say six things at the same time, and try to be ready everyday to give it away.
That's a lot of pressure?
Simon:: Oh my gosh yeah, look at my grey hair! [laughs]
Let's talk about the vehicles in this. They look spectacular. Were you told to stay true to  the original concepts and how much input did you have on top of that?
Simon: Well we had a pretty easy setup, because we have some vehicles that we carry over to the movie, and we have others that are completely new. So on the new ones I could go crazy.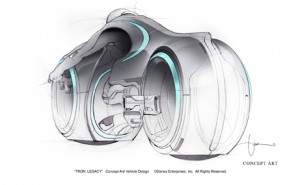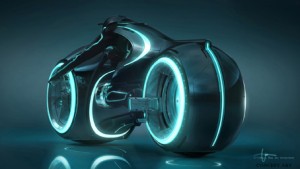 What are the new vehicles?
Simon: Sam's light-cycle, the car, and the jets are new of course, and other stuff. The new ones are sleeker and so contemporary, that if you could put them in a car design show they would hold up.
How is the one from the original light-cycle different from the one that designed?
Simon: The funny thing is that Sydney, who worked on the first film, developed a bike that had an exposed rider, but they couldn't do it because the computers weren't fast enough, so they gave it a roof, which became the iconic one. Ironically what we do now is basically what they envisioned in the first one but couldn't do technically. I mean this a full on homage in every aspect.
Did it matter for you at all, who would be playing the characters in terms of you envisioning the vehicles?
Simon: Yeah, I mean there was a thought like, "does it make a difference if Quorra rides the bike or Sam?" You know, boy versus girl. But she's a tough warrior, so I almost treated it like unisex. But it makes a difference how tall the actors are, because I needed to know that if Olivia Wilde sits in a car that the director, Joe Kosinski can still get the angle he wants, as opposed to maybe in another vehicle than Jeff Bridges has to sit in. So that was fascinating. Because in a real car you change everything and adjust it. But here you have one shot.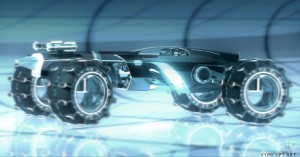 One of the big things that was mentioned about Tron: Legacy was that the lines between CGI and reality are blurred. How much of what we'll see on screen is the actual vehicle versus CGI?
Simon: Every time you see an interior, where somebody has a cockpit, is the real existing thing. Every time you see the exterior zooming by, it's completely CGI.
Being your first feature, what was it like working with Joe Kosinski?
Simon: I got very spoiled. Everybody said you will never ever work on such a good movie, you know. I did, because I went on to work on Captain America, which also has a great director, which is Joe Johnston, one of my heroes who designed the old Star Wars movies. Also one of my heroes is Syd Mead, who designed the vehicles for the first Tron, So, there are so many beautiful things happening here.  And working with Joe was great. He's an architect, so I worked with other directors in between who were just about the action. Joe is very precise with his input, and that's what you want as a designer. He'll say, "I need more width here, or I need a better camera angle here, so can you bend this surface a little more." He speaks the same language as a designer.
What was your reaction when you saw the vehicles on screen?
Simon: Oh my gosh, yeah, it's incredible. I'll tell you why, for me especially. I met designers that are in the business for ten years in the movies, and their biggest complaint is things don't look anything like they were designed. Look at my drawing! But nobody ever sees the drawing, that's the thing. So I knew right from the beginning that I would design everything in 3D on my computer, and those models literally went to the machines. So every little radius on most of the vehicles you see there, I built with my mouse and keyboard.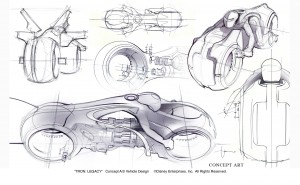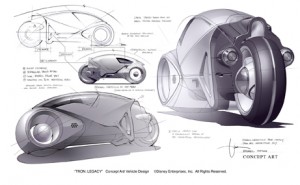 So it wasn't just a sketch? Do you start with a sketch?
Simon: Yes, of course. It's still the classic thing to get nice lines, but knowing that your computer model, on your little machine, is on the screen, is priceless. And that doesn't happen too often I don't think.
That's pretty cool stuff I got to tell you, you're a lucky guy, you've done a great job.
Simon: The downside is, if somebody doesn't like it, then it's like "oh my god, ok its really your fault."
So can you tell me anything about what you created for Captain America, or is it top secret?
Simon: For Captain America? That's all a secret! I mean there are some spy shots online from principal photography. I did bikes, cars and many other things. It's 1940s, and all gritty, rusty, so as an artist you can't ask for more.
---
---
---
---
Similar Articles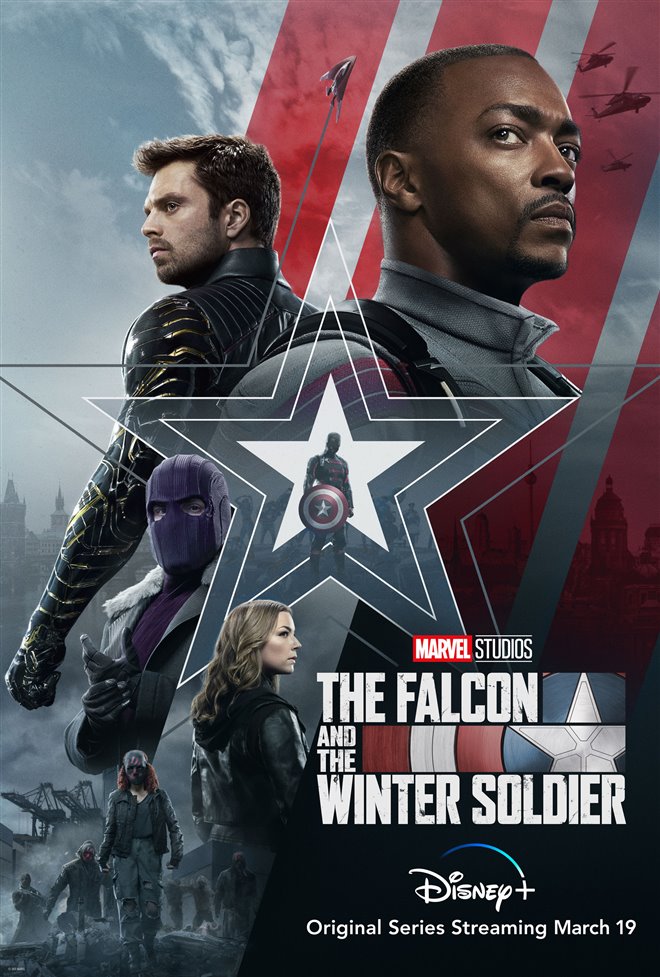 March 19, 2021 | Leave a Comment
The Falcon and the Winter Soldier looks like a promising series with exciting action-packed scenes, and well-rounded characters that will be a treat for fans.
---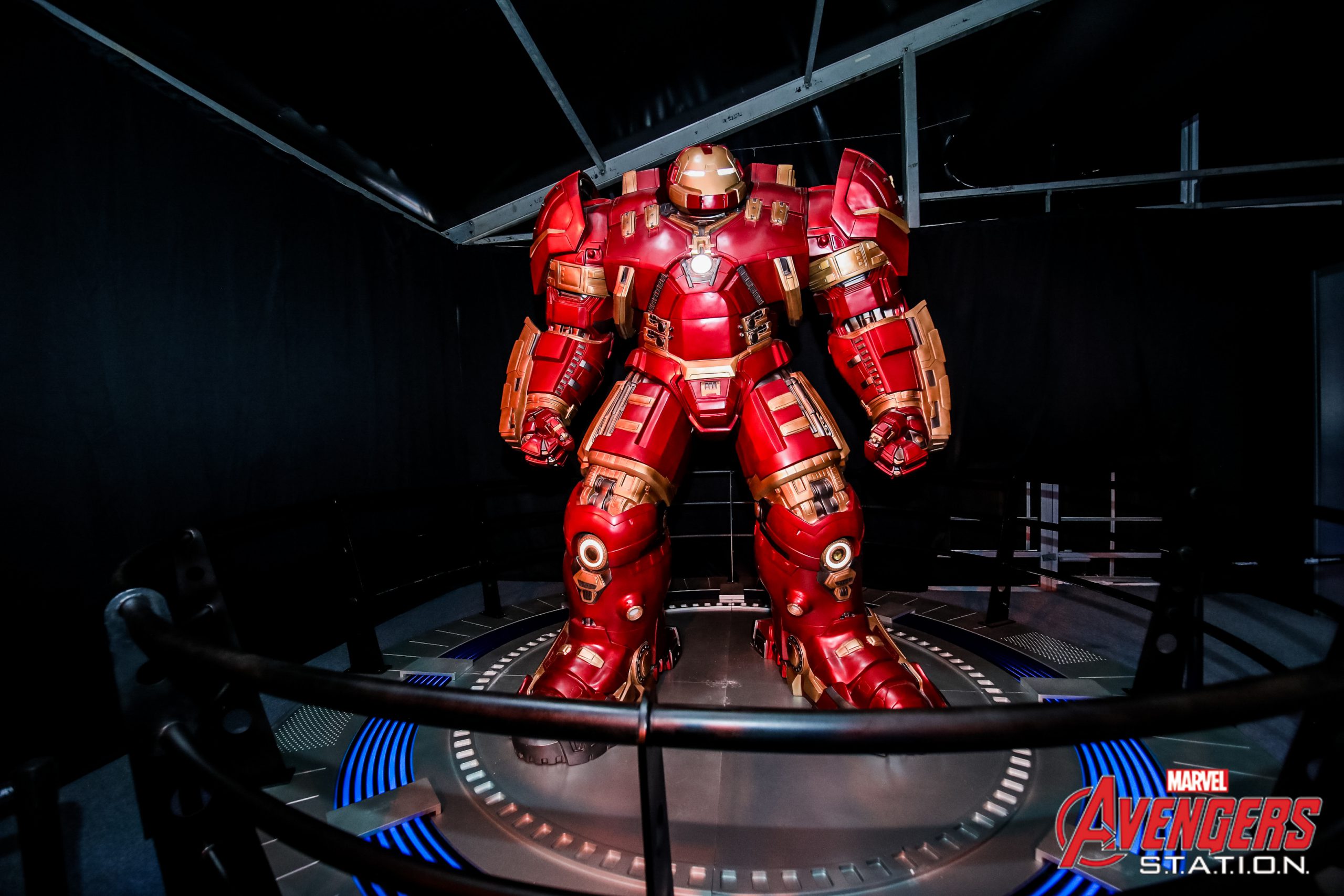 November 16, 2020 | 1 Comment
Marvel's Avengers S.T.A.T.I.O.N. is an international exhibit that has toured around the world. It's coming November 20 to Toronto's Yorkdale Shopping Centre.
---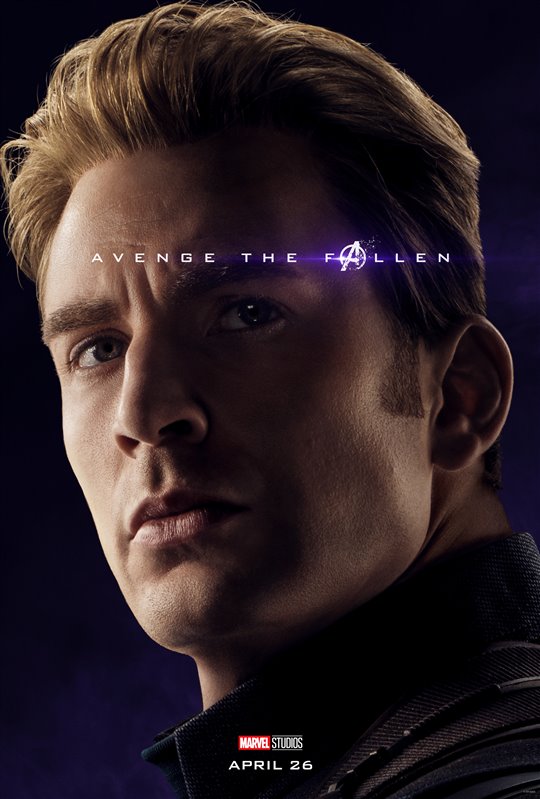 July 30, 2019 | 1 Comment
Disney has given us an exclusive Avengers: Endgame video to share with our readers, featuring the love story between Steve Rogers and Peggy Carter. Click to watch!
---