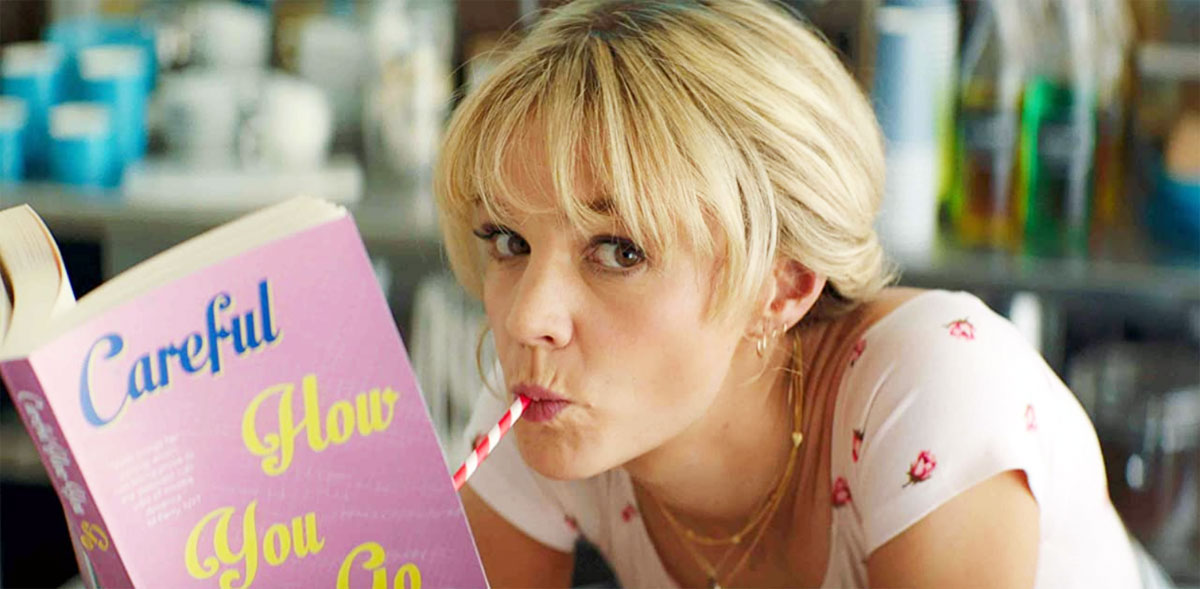 Check out the new DVDs, Blu-rays and streaming shows (Netflix, Amazon Prime Video, Disney+, BritBox, Acorn TV and more) coming out this week, including Best Picture nominee Promising Young Woman. ~Alexandra Heilbron
Promising Young Woman – Once a promising young medical student, Cassandra's (Carey Mulligan) career was derailed when her best friend was raped. When everyone but Cassandra blamed her friend for what happened, the friend went on to commit suicide. Despondent, Cassandra drops out of school and begins living a secret life. She goes to bars, pretends to be drunk and when a man tries to take advantage of her, she confronts him with the fact that what he's doing is wrong. When she discovers that her friend's rapist has become a doctor with a wonderful life who's about to marry a model, she decides she has to do something to avenge her friend. This film received five Oscar nominations, including Best Picture. Available on Blu-ray/DVD/VOD/Digital.
Above Suspicion – Mark Putnam (Jack Huston) is a newly married FBI agent assigned to work in a small town in Kentucky, where he meets Susan Smith (Emilia Clarke), who is able to provide him with information. They are successful in catching the robber, leading to Mark being praised at work and at home. In light of their success, Susan sees Mark as an escape, resulting in an affair between the two. Things take a turn for the worse when their relationship leads to a scandal that threatens Mark's job, endangers his investigations, his relationship with his wife and the safety of both of their lives. Available on Blu-ray/DVD/VOD/Digital.
The Falcon and the Winter Soldier – With Captain America retired, it's now up to his successors in Bucky Barnes (Sebastian Stan) and Sam Wilson (Anthony Mackie) to take up his mantle. The two are still at odds but must learn to put their differences aside to take on a familiar foe. Zemo (Daniel Brühl) is on the loose and looking to continue his work in ridding the world of superheroes. Along the way the two meet a familiar face in Sharon Carter (Emily VanCamp) as they try to track down Zemo and put an end to his schemes. This limited mini-series begins streaming March 19 on Disney+.
Zero Chill – Kayla MacBentley is a pairs figure skater, but when her twin brother Mac, who's equally talented at hockey, gets a scholarship to a prestigious Ice Hockey Academy in Britain, she has to drop everything and leave Canada to go with her family as they start a new life in a new country. For Mac, playing with a new team means he has to prove himself all over again, while Kayla tries to find a skating partner who's up to her standard. This young adult series begins streaming March 15 on Netflix.
March 15
A Midsummer Night's Dream (2015) (Sundance Now)
A Call to Spy (Netflix)
Bakugan: Armored Alliance (Netflix)
Bloodlands (Acorn TV Original)
The Firm (Amazon Prime Video)
Forrest Gump (Amazon Prime Video)
The Godfather (Amazon Prime Video)
The Godfather: Part II (Amazon Prime Video)
The Godfather: Part III (Amazon Prime Video)
In Deep: Series 1 (Acorn TV)
The Last Blockbuster (2020) (Netflix)
The Lost Pirate Kingdom (Netflix Original)
Narcissister Organ Player (2018) (Sundance Now)
Saving Private Ryan (Amazon Prime Video)
Shithouse (Netflix)
The Source Family (Sundance Now)
Zero Chill (Netflix)
March 16
Above Suspicion (Blu-ray/DVD/VOD/Digital)
Crisis (VOD/Digital)
DES (Blu-ray/DVD)
Don't Tell a Soul (Blu-ray/DVD/VOD/Digital)
Family Business: Season 1 (DVD)
Hawk & Rev: Vampire Slayers (DVD/Digital)
I Am Lisa (DVD/VOD/Digital)
Loro (VOD/Digital)
Nest of Vampires (VOD/Digital)
Promising Young Woman (Blu-ray/DVD/VOD/Digital)
Psycho Goreman (Blu-ray/DVD)
RebellComedy: Straight Outta the Zoo (Netflix)
Sacrilege (DVD/VOD)
Songbird (Blu-ray/DVD/VOD/Digital)
Waffles + Mochi (Netflix)
March 17
Operation Varsity Blues: The College Admissions Scandal (Netflix)
Under Suspicion: Uncovering the Wesphael Case (Netflix Original)
The Wedding Guest (Netflix)
March 18
B: The Beginning Succession (Netflix)
Back: Season 2 (Sundance Now)
Cabras da Peste (Netflix)
Hard Kill (Amazon Prime Video)
Nate Bargatze: The Greatest Average American (Netflix)
Playing For Keeps: Season 2, Episode 5 (Sundance Now)
Skylines (2020) (Netflix)
March 19
Alien TV: Season 2 (Netflix)
Before the Flood (Disney+)
Blumhouse's The Craft: Legacy (Amazon Prime Video)
Calls: Season 1 (Apple TV+)
Country Comfort (Netflix)
Disney Big Hero 6 The Series: Season 3 (Disney+)
The Falcon and The Winter Soldier (Disney+)
Food Club (VOD/Digital)
Formula 1: Drive to Survive: Season 3 (Netflix Original)
Gardeners' World (BritBox)
Genius: Season 2 (Disney+)
Grown-ish: Season 3, New Episode (Disney+)
Helstrom: Season 1, New Episode (Disney+)
Love, Victor: Season 1, New Episode (Disney+)
One Small Problem (Netflix Original)
Rose Plays Julie (VOD/Digital)
Sky Rojo (Netflix Original)
Solar Opposites: Season 1, New Episode (Disney+)
The Stand: Season 1 (Amazon Prime Video)
March 20
Ram (Amazon Prime Video)
March 21
Renegades (Amazon Prime Video)