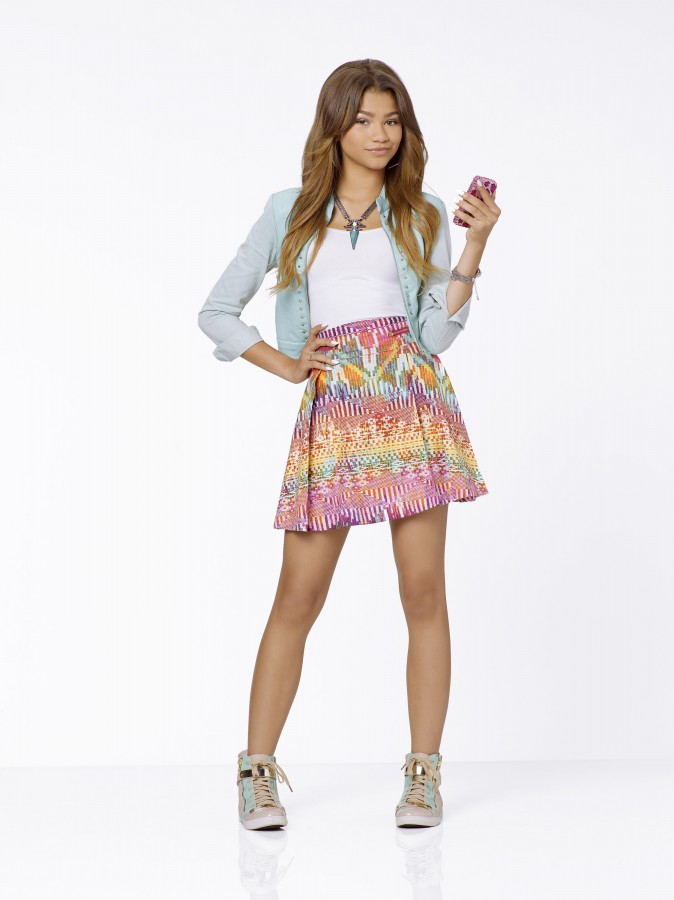 Zendaya is a real triple threat in the entertainment industry as she conquers the word of acting, singing and dancing. You may know her as Rocky in Family's hit series Shake It Up or may have seen her dancing her way to the finals on Dancing with the Stars. She also released her debut album "Zendaya" late last year on Hollywood Records, which yielded the Platinum single "Replay." She stars in the upcoming Family Channel movie Zapped alongside Spencer Boldman. Tribute chats with this rising star about her film and how she has avoided negative publicity.
What did you always want to do growing up?
I think ever since I was little, I was going to be an entertainer. I tried and worked really hard because it was such a strong passion of mine.
How did you land the role in Shake it Up?
Really, it was just another audition. I believe it was my third Disney audition I've ever been on. I hadn't been in L.A. for that long but I went in ready because I really, really wanted it. I guess I was the right person for it. There's no cool story that I was found in a mall or something. It was just a regular audition that happened to be the one.
Tell us about your role in Zapped.
I play Zoey. She is basically a regular girl who likes her world to be normal, without any changes. But she is faced with exactly the opposite of what she wants. She has to move in with her stepbrothers and her stepdad. Things just get a little out of hand and a little crazy. She doesn't have control of her own life anymore.
You're also singing the movie's original song. How did that come about?
We needed an original song and we figured that it would probably good idea if I were singing the song I was dancing to. It's not necessary that my character's a singer. It's a song I ended up dancing to and also recorded. It's a really cute, fun and upbeat song.
What was the inspiration behind your self-titled album?
There were a lot of inspirations. I'm always inspired by my favorites Michael Jackson, Janet Jackson, Beyoncé, a lot of people like that. I wanted to also add my own personality and twist.
Acting, singing and dancing – which one would you say is your priority right now?
There's not really a priority but there's just time for one over the other. You just try to figure out a way to fit it in. I make sure I get to do everything I really love to do. It's just juggling all the things at once.
Are you planning to focus on one industry alone?
I like to juggle. While I'm doing music, I'll work on that and once that's over I'll be spending time putting out the music. You just kind of work things into your schedule.
What is the biggest challenge you've faced – either in the acting or music industry?
Being young in this industry, sometimes, means that people don't take you seriously. They don't think you can do it. So you have to work harder than the adults to prove yourself. I think you also have to stay true to yourself and be proud of however old you are.
Which actor would you love to work with?
I have quite a few. It's a very long, never ending list. There's Johnny Depp and so many more!
With the negative publicity many teens are getting these days, how do you stay grounded in the entertainment industry?
I'm really just a good kid so nothing really bad happens because I don't really do bad things. It's not really my personality so I never had to really worry about that. When people's personality doesn't really go hand in hand with who the world really thinks they are, that's when the problems start. For me, my fans know exactly who I am. I don't pretend to be anyone that I'm not. I think that's the best part. I'm just a boring, good kid.
What would you advise young stars who want to get into acting or music?
My number one piece of advice is to have a goal. Set a goal such as "I want a Disney show," then figure out a plan to get there and then just go for it. Don't let anyone tell you no and it's 100 per cent possible for anyone. You just have to have a dream that you want to accomplish.
Who would you say is your mentor in the industry?
I have people I look up to but I haven't been able to meet them. So for me, my mentor is really just my parents who are not necessarily from the industry but definitely teach me really valuable life lessons.
What's next for you?
I'm excited to work on K.C. Undercover and I'm co-producing that. There are lots of fun things coming up and I can't wait to do them and have fun.
Zapped premieres on Family Channel Friday, June 27 at 8 p.m. ET/PT. ~Marriska Fernandes