Bonnie Wright Biography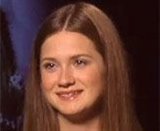 Born: February 17, 1991

Date of Birth: February 17, 1991
Born in London, England, Bonnie Kathleen Wright has grown up in the role of Ginny Weasley, the youngest of the Weasley siblings, in all of the Harry Potter films, taking her character from Ron's baby sister to Harry Potter's love interest in Harry Potter and the Half-Blood Prince.
Additional acting credits include playing a young Agatha Christie in the 2004 BBC telefilm Agatha Christie: A Life in Pictures, as well as playing Young Sarah in the Hallmark production Stranded, that aired both in the U.S. and the U.K. She also voiced the character of Vanessa in an episode of the Disney Channel animated series The Replacements.
Apart from acting, Wright loves music and plays both guitar and saxophone. She lives in London with her parents, who are jewelers, and her brother Lewis. She recently announced her engagement to fellow British actor Jamie Campbell Bower, who stars in the Twilight movies.