Calista Flockhart Biography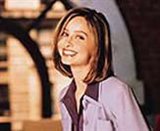 Born: November 11, 1964

Date of Birth: November 11, 1964
Born in Freeport, Illinois, Calista Flockhart graduated with a bachelors degree in fine arts at Rutgers University in 1989. She then took odd jobs, such as aerobics teaching, and waitressing. That same year, she made her big debut in New York at the Circle Repertory Theater in Beside Herself. Flockhart also performed in The Glass Menagarie, Sophistry, Three Sisters and All For One. In 1992, Flockhart had a stunning performance in the HBO series Life Stories, Families in Crisis, appearing in The Secret Life of Mary-Margaret: Portrait of a Bulimic. She also appeared in such movies as Quiz Show, Getting In, Naked in New York, and Drunks in the following three years. As Gene Hackman and Dianne Weist's eighteen-year-old-bride-to-be daughter in the 1996 comedy film The Birdcage, Flockhart gained wider exposure. She also appereared along with Brad Renfro and Kevin Bacon in the independent film Telling Lies in America.
Flockhart vowed never to do television roles, as she was loyal to the theater. But, encouraged by her friends, Flockhart decided to look over the part of Ally McBeal, and fell in love with the writing. She decided to give television a shot, and flew to Los Angeles to audition for the role of Ally McBeal. As Flockhart walked in for the audition, Ally creator David E. Kelley knew at their first meeting that Flockhart was the perfect match for the Ally McBeal character, and was given the role.
Flockhart spent most of her late 1997 and 1998 years filming for Ally McBeal, but did take a break to appear at a celebrity event called The Vagina Monologues talking about female abuse, with actresses Winona Ryder, Glenn Close, and others. Flockhart also won a Golden Globe award for her work on Ally McBeal in February, 1998. She was also nominated for best actress in a Comedy Series for the 1998 Screen Actors Guild Awards and People's Choice awards.
She appeared in A Midsummer Night's Dream, based on the Shakespearean play in 1999 and was nominated again for best actress in a comedy series for the 1999 Golden Globes, 1999 SAG Awards, and the TV Guide Awards. In Things You Can Tell Just By Looking At Her (2000), she starred opposite Cameron Diaz, Glenn Close and Holly Hunter.